Artichoke Spinach Cannelloni With Roasted Red Pepper Sauce
Artichoke Spinach Cannelloni With Roasted Red Pepper Sauce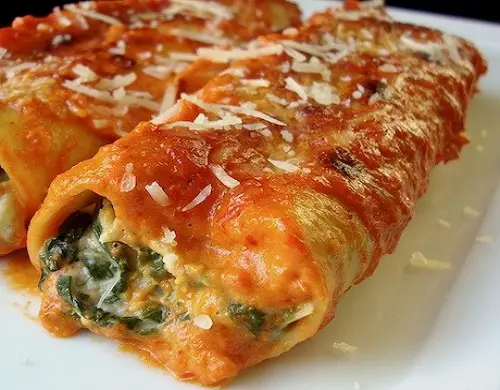 Ingredients
Cannelloni:
12 fresh lasagna sheets (about 3″ by 8″)

10 ounces frozen spinach, squeeze all the liquid out

14 ounces cooked artichoke hearts, chopped

1 small white onion, chopped

1 teaspoon nutmeg

1/2 cup ricotta cheese

1/2 cup cream cheese, room temperature

1/2 cup freshly grated parmigiano reggiano cheese

Handful fresh parsley, chopped

Sea salt and black pepper to taste

1 cup fresh parmesan cheese, grated (garnish)
Directions
Combine artichoke, spinach, parmigiano reggiano cheese, ricotta cheese, cream cheese, parsley, and nutmeg.

Season with sea salt and black pepper to taste.
Ingredients
Sauce:
3 large roasted red pepper

3 garlic, cloves

1 small white onion, chopped into large chunks

1/4 cup olive oil

Sea salt and black pepper
Directions
Blend all until smooth.

 Season with salt and black pepper.
Assembly Directions
Spread 1/3 cup of spinach artichoke mixture along center of each piece. Roll up to enclose filling. Repeat with remaining ingredients.

Preheat oven to 350 F.

On a large baking dish, arrange Cannelloni in a single layer. Spread roasted red pepper sauce generously to cover the top. Sprinkle with freshly grated parmesan cheese. Bake for 40 minutes to 50 minutes or until golden brown.