Rosemary Roasted Leg of Lamb Recipe
Rosemary Roasted Leg of Lamb Recipe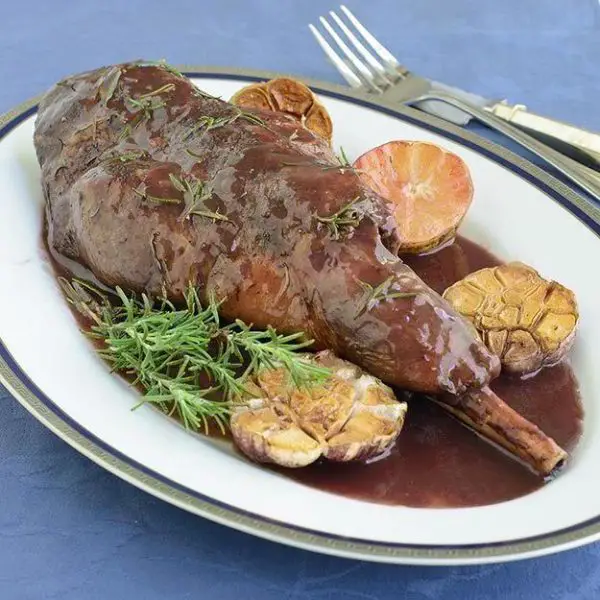 Perfect for your Easter feast, our delicious and tender Roasted Leg of Lamb recipe is a winning combination of high quality lamb with simple yet flavorful ingredients like fresh rosemary, lemon and garlic. Served with your favorite sides – like mashed or roasted potatoes, it can also serve as a weekday dinner dish or weekend lunch.
Prep Time:
Cook Time:
Total Time:
Yield: Serves 4
Rosemary Roasted Leg of Lamb Recipe Instructions
Ingredients
5 lb. lamb leg

1 tbsp. olive oil

1 y ½ cups beef broth

1 cup red wine (pinot noir or cabernet sauvignon)

2 or 3 garlic bulbs, halved

1 bunch of rosemary

2 lemons cut in half

1 tbsp. sea salt

½ tbsp. black pepper

1 tbsp. cornstarch

2 tbsp. of water

3 tbsp. honey
Directions
Heat oven to broil.

With a sharp knife remove all the visible fat from the leg

Rub the leg with salt, pepper, and half a garlic bulb with the salt and pepper and then with one of garlic halves

Put it in a roasting pan, drizzle the olive oil and broil for 10 minutes, turning after 5 minutes.

Lower the temperature of the oven to 325 F.

Remove the roasting pan, and add the wine, garlic halves, lemons, stock, and half of the rosemary. Cook for about 1 hour, basting it with the juices and turning it once or twice.

After 1 hour, test the temperature using a meat thermometer and follow the guidelines for lamb doneness – the internal temperature should be 125° to 130°F for medium-rare, or 130° to 135°F for medium.

When the leg of lamb is ready, remove from oven and set in a platter, covered in tin foil. Let it rest for about 20 minutes.

Pour all the stock from the pan into a saucepan, and cook over high heat for about 3 minutes. Mix cornstarch with water, add to the saucepan, mix well, cooking for another minute until thickened, then add honey.

Garnish the lamb with lemon slices, garlic and rosemary and serve with the gravy.