Sea Bass Pomodoro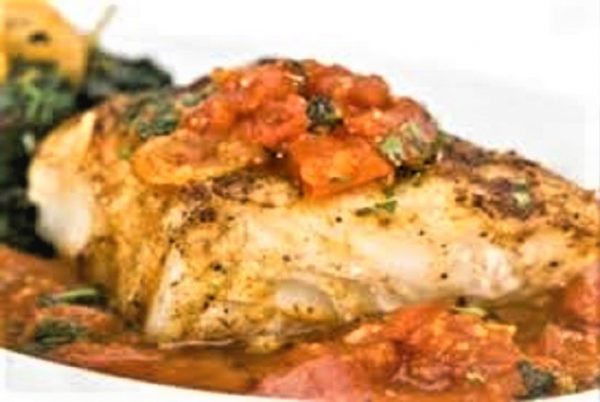 Sea Bass Pomodoro
Sea Bass Pomodoro is a fantastic meal.  Sea Bass is one of our favorite fishes to eat.  It tastes good and is good for you.  The doctors always say to eat more fish because the omega 3 fatty acids are very good for brain development.  So you can eat this meal and increase your brains functioning.
Serves 2 people
INGREDIENTS
Sea Bass
2 sea bass fillets
1/2 tsp of salt
1/2 tsp of fresh ground black pepper
3 Tbs of extra virgin olive oil
Bacon Pomodoro Sauce
1 Tbls of extra virgin olive oil
1/2 pound of pancetta, finely chopped
1 yellow onion, chopped
2 cloves of garlic, chopped
10 Roma tomatoes, seeded and finely chopped
1/2 cup of chicken broth
1/4 cup of white wine
4 fresh basil leaves, chopped
1 tsp of dried oregano
1/4 cup of fresh Italian flat leaf parsley, chopped
1/2 tsp of salt
1/2 tsp of fresh ground black pepper
PREPARATION
Pan roast the sea bass
Place the pan over medium to high heat.  Get the pan very hot then add a little olive oil. When the olive oil is heated but not smoking add the seasoned fish and cook for about 2 minutes on each side to create  a nice crisp crust.  Place the pan into a 450 degree oven and cook for 4 to 5 minutes.  While cooking the sea bass you can prepare the pomodoro sauce.
Prepare the Sauce:
In a large pan saute the bacon in the olive oil until slightly crisp.
Add the onions and the garlic and cook for and 2 minutes.
Add the chopped tomatoes,  chicken broth and wine and cook for another 2 minutes.
Add the basil, oregano,  1/8 cup of parsley, salt and pepper.
Cook for around 20 minutes over medium heat until the sauce thickens slightly.
Plate the sauce and the sea bass, garnish with the remaining parsley and serve.
Serves 2 people
Recipe from: http://www.great-chicago-italian-recipes.com