Grilled Shrimp and Tomatoes with Cannellini Beans and Sage
Grilled Shrimp and Tomatoes with Cannellini Beans and Sage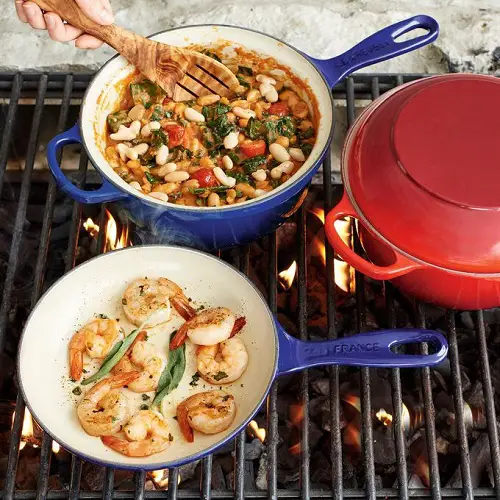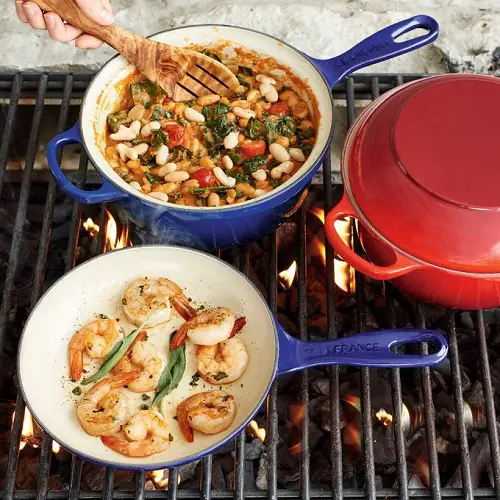 By Recipe developed for Sur La Table's Cooking Classes
Serves
Makes 4 to 6 servings (as an appetizer)
Ingredients
3 tablespoons good quality extra-virgin olive oil, divided

1 medium yellow onion, peeled and cut into ¼-dice

1 medium garlic clove, peeled and minced

3 tablespoons finely chopped sage leaves

2 cups cooked cannellini beans

1 tablespoon tomato paste

¼ cup dry white wine

1 ½ cups grape tomatoes, halved

½ cup low sodium chicken or vegetable broth

4 thyme sprigs

1 bay leaf

2 cups Tuscan kale, ribs removed and thinly sliced

Kosher salt and freshly ground black pepper

1 teaspoon smoked paprika

1 pound medium shrimp, peeled and deveined

1 tablespoon fresh lemon juice, more to taste
Procedure
This great way to pair shrimp with Tuscan white beans and works great as a starter or main dish. On hot summer days, serve room temperature with lettuce greens. In the winter, serve this dish hot straight from a Dutch oven with grilled bread rubbed with garlic cloves.
Place a medium, deep skillet or Dutch oven over medium heat and add two tablespoons of oil. When the oil is shimmering, add onion and cook until tender, about 3 minutes. Add garlic and 2 tablespoons sage; cook until fragrant, about 1 minute. Add beans and tomato paste, stirring constantly until beans are well coated and slightly toasted. Add wine and reduce almost dry. Add tomatoes, broth, herbs and kale. Season with salt and pepper. Cook until ragù is thickened and flavors meld, about 5 minutes. Remove the thyme sprigs and bay leaf. Taste and adjust seasoning with salt and pepper. Set aside.
Heat a grill or grill pan over medium-high heat. In a medium bowl, season shrimp with remaining tablespoon of oil, sage, smoked paprika, salt and pepper. Grill shrimp, turning once, cooking until the center is slightly opaque, about 1 to 2 minutes.
To serve: Ladle white bean ragù into serving bowls or appetizer plates. Divide the shrimp between the plates. Drizzle with olive oil and lemon juice. Serve immediately.