Christmas Gubana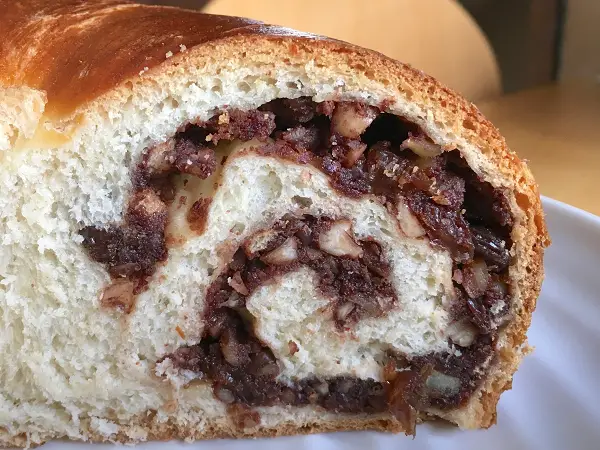 A traditional cake from Fruili in Northern Italy, gubana is filled with a mixture of dried fruit, nuts, and spices. It is related to strudel, babka, and other Slavic, Czech, and Eastern European pastries.  Derived from the Slovene word 'guba', meaning wrinkle or fold, the name gubana is suggestive of the spiral shape of this sumptuous pastry.  Originally only baked for Christmas and Easter, gubana may now be enjoyed throughout the year.  Locals often serve the pastry soaked in grappa.

Ingredients:
(Makes one 9 to 10-inch cake, about 12 generous servings)
Dough:
2-1/4 teaspoons (1 packet) dry active or instant yeast

1/3 cup plus 1/4 teaspoon sugar

1/2 cup warm water, 105 to 115 degrees F.

2-2/3 cups flour, divided

1 egg

1 egg yolk

4 tablespoons butter, room temperature

1 teaspoon salt

1/2 tablespoon vanilla extract
Filling:
1 cup golden raisins

1/2 cup grappa or rum

1 cup walnuts

1/2 cup sliced almonds

3/4 cup finely crushed amaretti cookies

1/2 cup diced candies orange peel

4 tablespoons butter, melted

3 tablespoons sugar

1-1/2 teaspoon ground cinnamon

1 egg

Egg wash:  1 egg beaten with 1 tablespoon of water
Directions:
To make the dough:
In a small bowl, dissolve the yeast and  1/4 teaspoon of sugar in the warm water.  Let it rest until foamy, 5-10 minutes.  Stir in 2/3 cup of flour.  Cover and let rise for 30 minutes.

Transfer the yeast mixture to a large bowl.

Add the remaining sugar, remaining flour, egg, egg yolk, salt and vanilla.

If using an electric mixer, combine the ingredients with a dough hook attachment and then knead for 10 minutes.  If you are making the dough by hand, transfer the dough to a lightly floured surface and knead until the dough is smooth and elastic.  Form the dough into a ball.  Place the dough ball into a greased bowl, cover with a kitchen towel or plastic wrap and let rise for 1-1/2 hours.
To make the filling:
Place the raisins in a bowl.  Add the grappa or rum and let soak for 30 minutes.

Finely grind the walnuts and almonds in a food processor.

In a large bowl, combine the raisins and grappa or rum, the ground nuts and all the remaining filling ingredients.  Set aside.

To assemble and bake the gubana:

Preheat the oven to 350 degrees F.

Line a baking sheet with parchment paper.

On a lightly floured surface, roll out the dough to a 12 x 20-inch rectangle.

Evenly spread the filling over the dough leaving a 1-inch margin all around.

Starting with one long side, roll up the dough jelly-roll style.

Form the dough into a spiral and place seam-side down on the prepared baking sheet.  Cover with a kitchen towel or plastic wrap and let rise for 30 minutes.

Brush the entire surface of the gubana with the egg wash.

Bake until golden brown, about 45 minutes.

After cooling, gubana may be wrapped and stored at room temperature for several days.  Cut into wedges to serve.
https://www.mangiabenepasta.com/gubana.html