Pinza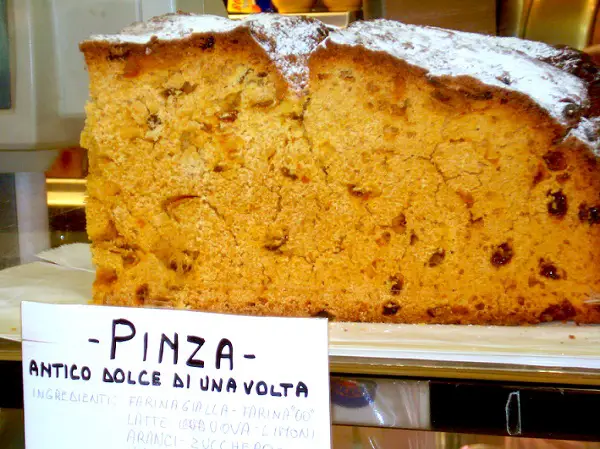 Orange scented yeast cake bursting with apples, dried fruit and nuts, Pinza is one of the oldest, but still best-loved sweets of the Veneto region. 
Pinza is always served during the Feast of the Epiphany. In small towns friends and families visit one another on that day, tasting each other's pinza and voting on the year's best. On January 5th, the eve of the Epiphany, many cities, especially in northeastern Italy celebrate by setting set bonfires called faló del vecchione in the town square. It's a sort of out-with-the-old, in-with-the-new ritual. They can burn just wood, but more often they burn large straw men called vecchio, the old one.  During the bonfire it's traditional to nibble pinza and sip spiced warm wine.
Ingredients
Whole milk 2 cups, divided

Lemon Zest of ½ lemon

Vegetable oil, 1/3 cup, plus 2 tablespoons, divided

Fine corn meal ½ cup

Raisins, 5 ounces, about 1 cup

Dried figs, 5 ounces, finely sliced

Walnuts, 2 tablespoons, chopped

Pine nuts, 1 tablespoon

Fennel seeds, 1 teaspoon

Active yeast, 1 package, ¼ ounce

Granulated sugar, 5 tablespoons, divided

Salt, 1 teaspoon

All-purpose flour, 16 ounces, about 3 cups

Apple, 1, peeled, cored and diced

Pumpkin puree, ¼ cup canned

Orange Zest of ½

Butter, 5 ounces, 10 tablespoons, melted

Confectioners' sugar For decorating
Instructions
Bring the 3/4 cup of the milk, lemon zest, and 1 tablespoon of the corn oil to a boil. Slowly sprinkle in the cornmeal and cook, stirring to remove any lumps, until the mixture thickens to a dense paste, about 2 minutes. Reserve.

Combine 3/4 cup of the milk, raisins, figs, walnuts, pine nuts and fennel seeds in a bowl and stir to combine. Reserve.

In another bowl, combine 1/2 cup of the milk with with the yeast until dissolved. Add 3 tablespoons of the sugar, the salt, 1 tablespoon of the oil, 1/2 cup of the flour, the apple and stir until well combined.

Preheat the oven to 350 degrees and line the bottom and up the sides of a rectangular pan, roughly 12 by 10 inches, with parchment paper.

Add the remaining 1/3 cup of the corn oil, butter and cooked cornmeal into the yeast mixture, and stir well to remove any lumps. Add the dried fruit-nut mixture, pumpkin puree, orange zest, and remaining 3 tablespoons of sugar, and mix until well combined.

Slowly add the remaining 2 1/2 cups of flour, mixing with each addition.  Spread the mixture into the prepared pan, loosely cover with aluminum foil, and bake for 15 minutes. Remove the foil and continue baking for another 15 to 20 minutes until golden.  Remove from the oven, allow to cool to room temperature, and serve topped with confectioners' sugar.
Recipe courtesy of Daniela Dal Ben.
https://www.italymagazine.com/recipe/venetos-good-luck-cake-pinza