PORK SHOULDER STEW with potatoes and peas (Spezzatino)
PORK SHOULDER STEW with potatoes and peas (Spezzatino)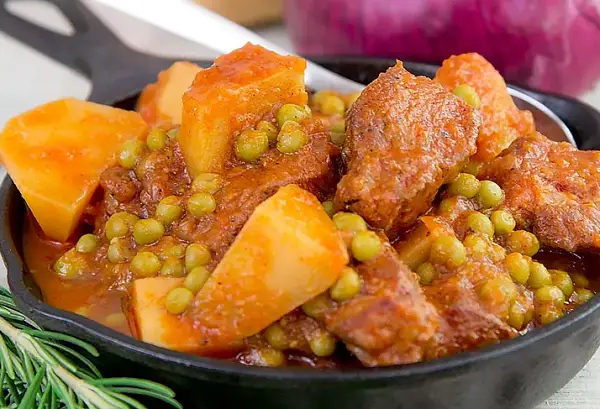 Ingredients
    1.5 Lb (800 g) pork shoulder

    1 Lb (450 g) golden potatoes

    15 oz (425 g) small peas, canned

    1 medium red onion

    5 tbsp double concentrated tomato sauce

    2 cups (500 ml) meat broth

    1 clove garlic

    5 tsp unsalted butter

    1 splash extra-virgin olive oil

    2 cloves

    1 tsp paprika

    2 juniper berries

    1 sprig rosemary

    1 tsp black pepper

    as needed table salt
Instructions
    PORK SHOULDER DRY BRINE
    First, reduce the pork shoulder into dices 2 inches long per side. After that, combine 2 tsp of table salt, 1 tsp of black pepper, and 1 tsp of sweet paprika. Finally, rub the meat with the spices mixture, place in a bowl. Then, wrap and store in the fridge for 5 hours at least (best if 24 hours).
    PORK STEW SAUCE
    First of all, peel and slice a red onion. After that, melt the butter into a saucepan and add the onions, and the cloves, and the crushed juniper berries. Saute the onions over medium heat, stirring as needed, until tender but not caramelized.
    Now, peel and crush the garlic, then add it into the pan along with the double concentrated tomato paste. Themn, sautè a few minutes, stirring frequently, then add 1 cup of meat broth, and cook 10 minutes more.
    Finally, mix the pork stew sauce with a blender until smooth.
    SEARING THE MEAT
    Now sear the pork shoulder dices. Grease a skillet (best if cast iron) with a thin layer of extra-virgin olive oil, then place over high heat. After that, sear all sides of the meat, a few pieces at a time.
    SLOW COOKING SPEZZATINO WITH POTATOES
    At this point, peel and dice the potatoes, same size of the meat. Now, pour the sauce into the saucepan, along with the meat, the potatoes, and a sprig of rosemary. Place the pan over low flame, and cook about 4 hours, until the meat results very tender, and the potatoes well done but still in shape. Check the sauce every once in a while: if the sauce comes to thick, add a ladle of boiling broth.
    SERVING THE ITALIAN PORK SHOULDER STEW
    The Italian pork shoulder stew is delicious just cooked, but gives its best the day after.
    If you want to serve it immediately, once the potatoes are meat are almost done, add the small peas and cook 10 minutes more.
    In case you are preparing the Spezzatino in advance, take the saucepan out from the fridge, add the peas and re-heat the pan very slowly, then serve.