Al Martino – "Spanish Eyes" 1965 International Hit Song
Al Martino
1965
"Spanish Eyes"
*
Al Martino (born Jasper Cini; October 7, 1927 – October 13, 2009) was an American singer and actor. He had his greatest success as a singer between the early 1950s and mid-1970s, being described as "one of the great Italian American pop crooners", and also became well known as an actor, particularly for his role as singer Johnny Fontane in The Godfather.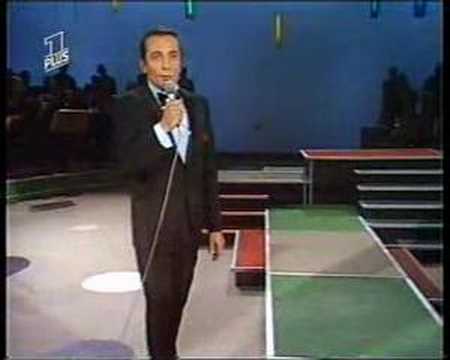 One of his biggest hits was "Spanish Eyes", achieving several gold and platinum discs for sales. Recorded in 1965, the song reached number five on the UK Singles chart when reissued in 1973. The song, with a tune by Bert Kaempfert originally titled "Moon Over Naples", is among the 50 most-played songs worldwide.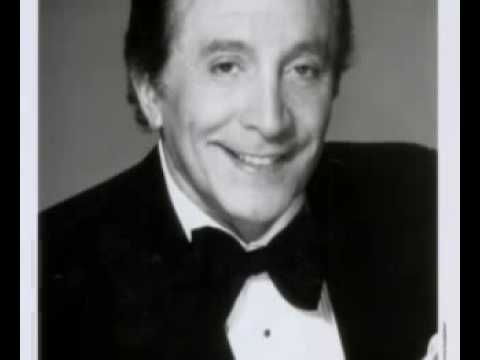 Jasper "Al" Cini was born in Philadelphia, Pennsylvania. The name Jasper was an anglicisation of his father's name, Gasparino. His parents were immigrants from Abruzzo, Italy, who ran a construction business, and while growing up, he worked alongside his brothers, Pasquale and Frank as a bricklayer. He aspired to become a singer, emulating artists such as Al Jolson and Perry Como, and by the success of a family friend, Alfredo Cocozza, who had changed his name to Mario Lanza.
*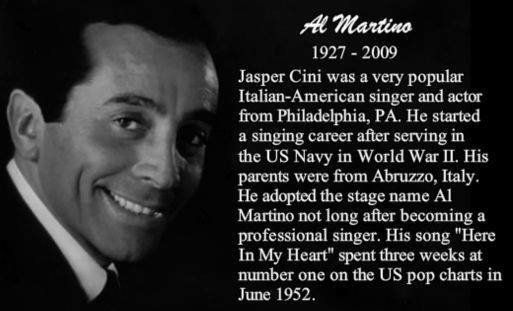 After serving with the United States Navy in World War II, during which he was part of, and injured in, the Iwo Jima invasion, Cini began his singing career. Encouraged by Lanza, he adopted the stage name Al Martino—based on the name of his good friend Lorraine Cianfrani's (née Losavio) husband Alfred Martin Cianfrani—and began singing in local nightclubs. In 1948, he moved to New York City, recorded some sides for the Jubilee label, and in 1952, won first place on Arthur Godfrey's Talent Scouts television program with a performance of Como's hit "If".