Amaretto, Panettone & Butter Pudding Recipe
Amaretto, Panettone & Butter Pudding Recipe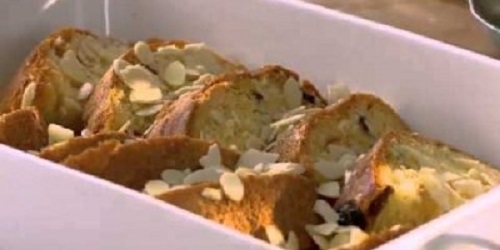 Ingredients
800ml / 28 fl oz full fat milk

1 lemon rind (finely grated)

6 thick slices of Panettone

2 tbsp Amaretto liquor

50g / 2 oz sliced almonds

3 eggs

45g / 1 ½ oz caster sugar

some butter

30ml /1 oz brown sugar
Method
1. In a saucepan heat the milk with the grated lemon rind and bring to the boil. Take off of the heat and allow to rest.
2.In the meantime, butter the slices of Panettone and cut them into triangles. Place the almonds on the bottom of an oven proof dish (approx. 25cm/10 in long and at least 5cm/2in tall) and neatly overlap the Panettone on top of the almonds.
3.Beat the eggs, sugar and Amaretto together and then add the milk.
4.Spoon the mixture over the sliced Panettone and leave to soak for approx. 5 minutes
.
5.Using your fingers, gently push the Panettone down into the caster mixture. Dust the top with brown sugar and place in a roasting tin containing enough hot water to come halfway up the side of the dish.
6.Bake at 180°c / 350oF for approx. 50-55 minutes or until the custard is lightly set and the top is golden brown. Serve immediately.