Apple Polenta Cake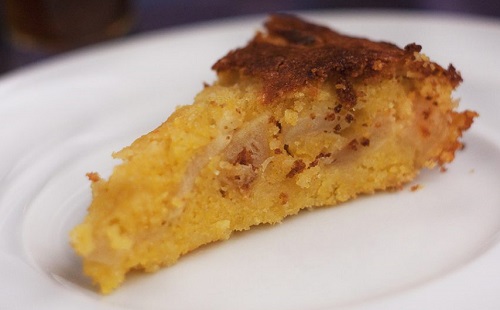 Ingredients
    2 apples cored, peeled and cut into small bite-size pieces

    1 cup almond flour (100 g)

    ⅔ cup polenta flour (100 g) coarsely ground

    2 teaspoons baking powder

    ¼ cup olive oil (50g)

    3 eggs beaten

    ½ cup sugar 100 g

    ¼ cup honey (runny) 85 g

    1 teaspoon vanilla

    zest of 1 lemon

    ½ teaspoon cinnamon

    ¼ teaspoon salt
For the glaze
    2 tablespoons marmalade

    1 tablespoon water
Instructions
    Preheat the oven to 180°C/160°C fan/350°F.

Combine the chopped apples with cinnamon in a bowl and set aside.

    In a medium mixing bowl, blend the eggs with sugar till fully combined, then mix in the olive oil pouring slowly, till fully blended.

Stir in the vanilla, lemon zest and honey then set aside.

    In a separate bowl, mix together the almond and polenta flours, salt and baking powder.

    Add the dry ingredients to the egg mixture and mix well till it is smooth and lump free.

    Stir in the chopped apples and pour into a lined 22 cm/9 inch iron skillet or springform pan.

Bake for 35-40 minutes*, till a skewer inserted into the middle comes out clean.

    Allow to cool, then gently remove the springform pan and peel off the parchment paper.
Glaze
    In a small saucepan, melt the marmalade with water on medium heat. Bring to a boil and simmer till it has thickened and become syrupy.

Remove from the heat and brush the syrup over the cake.
Then serve