Artichoke, Fresh Mozzarella, and Salami Sandwiches
Artichoke, Fresh Mozzarella, and Salami Sandwiches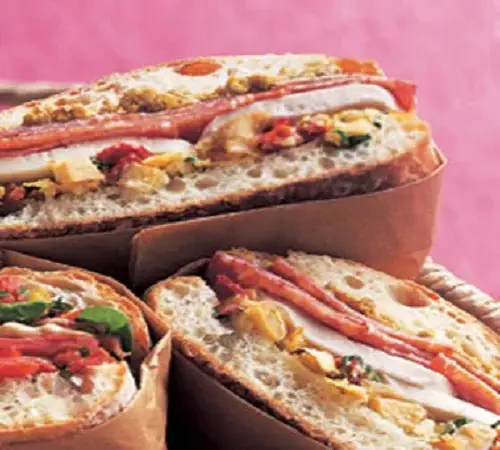 Ingredients:
Makes 4
Two 6-ounce jars marinated artichoke hearts, drained, chopped

1/2 cup chopped drained oil-packed sun-dried tomatoes

1/2 cup freshly grated Parmigiano cheese

1/2 cup chopped fresh basil

2 tablespoons extra-virgin olive oil

Four 5-inch diameter or 6-inch long Italian rolls, split in half lengthwise

12 ounces fresh water-packed mozzarella, drained, sliced

6 ounces salami, thinly sliced

8 tablespoons green Olivada
Directions:
Mix first 5 ingredients in medium bowl to blend.

Season to taste with salt and pepper.

Divide artichoke mixture among bottom halves of rolls.

Top with cheese, then salami.

Spread top half of each roll with 2 tablespoons olivada.

Place atop salami.

Press sandwiches lightly to compact and wrap each tightly in plastic wrap.

Refrigerate sandwiches at least 4 hours and up to 1 day.