Asparagus (Asparagi) mimosa
Asparagus (Asparagi) mimosa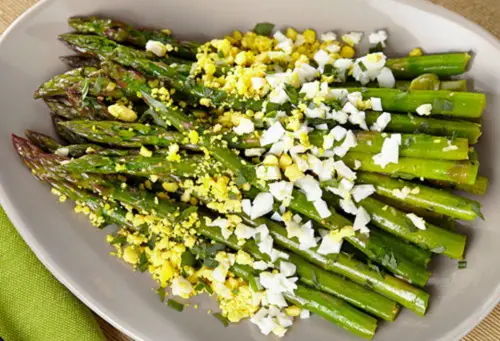 Ingredients:
32 asparagus stalks

1/4 cup extra-virgin olive oil

1/4 cup lemon juice

1 tablespoon finely chopped shallot

1 teaspoon Dijon mustard

2 hard boiled eggs
Directions:
Trim the ends of the asparagus.  Cook the asparagus in boiling salted water for 5 minutes.  Cook for less time if your asparagus are thin.  The asparagus are done if their heads bend slightly when lifted with tongs.  Drain the asparagus and rinse with cold water or place in a bowl of ice water.    Place asparagus on a towel and pat dry.

Whisk together the olive oil, lemon juice, shallots, and mustard.  Peel the eggs and cut in half.   With a wooden spoon, force the eggs through a medium-mesh strainer into a bowl.  Pour the vinaigrette over the asparagus and gently toss.

Divide the asparagus among 4 plates.  Drizzle with more of the vinaigrette, if desired.  Top with the egg mixture.
.