Asparagus and Gnocchi with prosciutto crumbs
Asparagus and Gnocchi

with

prosciutto crumbs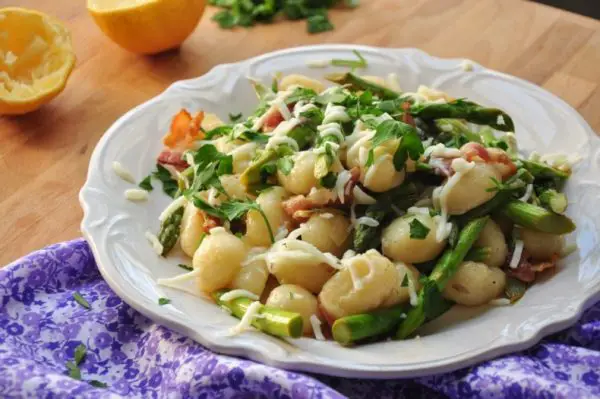 This asparagus and gnocchi dish with crunchy prosciutto crumbs makes for a quick and easy starter

Ingredients
prosciutto

4 slices

salted butter

75g

garlic

1 clove, crushed

asparagus

250g, trimmed

gnocchi

300g pack

Parmesan

25g, finely grated
Method
Step 1

Heat the grill to medium. Cook the prosciutto on a non-stick baking sheet, turning, until really crisp. Cool, then crumble.

Step 2

Heat the butter in a frying pan, add the garlic and gently sizzle for a few minutes, then take off the heat.

Step 3

Cook the asparagus in a pan of boiling salted water for 2-3 minutes or until just tender, then scoop out with a slotted spoon and drain well. Add the gnocchi to the same boiling water and cook following pack instructions, then drain.

Step 4

Put the pan with the garlicky butter back onto the heat, then add the asparagus and gnocchi, and heat through. Serve in warm bowls with the parmesan and crumbled prosciutto sprinkled over.