Authentic Basil Pesto Genovese
Authentic Basil Pesto Genovese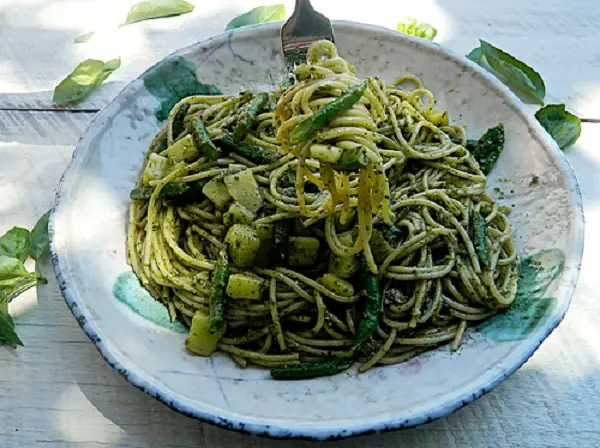 Pesto is an ancient Ligurian dish and its name encapsulates the method used to produced it: in the Genoese dialect the word pestâ (Italian: pestare) means to pound, to crush, in reference to the original method of preparation, with marble mortar and pestle, however it is acceptable these days to use a food processor. What has remained unaltered in times is the addition of boiled potato cubes and green beans, which elevate this humble dish to a delectable, substantial meal. Traditionally it is served with straccetti, trofie or trenette pasta, typical from the Liguria region of Italy, however spaghetti marries equally well with pesto

INGREDIENTS
serves 4
2 large bunches of basil, stalks trimmed

2 ice cubes (they will help preserve the vibrant green hue of the basil if you are using a food processor)

1 garlic clove, peeled (use more if you like it very pungent, but jeep in mind authentic pesto is not garlic loaded)

3/4 cup of extra-virgin olive oil

1/3 cup of pine nuts

1/4 cup of grated parmigiano

1/4 cup of freshly grated pecorino

sea salt to taste

1 medium potato, peeled and cut into small cubes

1 cup of green beans, trimmed and cut into three

320 gr  (11 oz) of dry spaghetti
HOW TO
1. If using a food processor: put the basil, garlic, nuts, cheese and ice cubes in the bowl of a food processor fitted with blades and blitz until smooth.  Slowly add in the oil in a stream and process with the rest of the ingredients until dense and well emulsified. Taste for salt and adjust accordingly.
2. If using a pestle and mortar, add basil, garlic pine nuts and a pinch of salt to the mortar. Start working with the pestle, pressing and rotating it until all the ingredients are nicely ground. Add the cheese and mix well. Slowly pour in the oil and mix well until well emulsified. Taste for salt and adjust accordingly. Set aside in the fridge until ready to use (it will keep, well covered in oil, for over a week). You can freeze pesto in glass jars with kids or plastic containers with lids.

3. Bring a large pot of salted water to the boil. Drop in your pasta along with the potato cubes. 4 minutes into cooking, add the beans. Cook your pasta and vegetables until nicely al dente. Drain, but be sure to reserve 3  or 4 tablespoon of pasta cooking liquor (aqua di cottura). Place the pasta, potato and beans onto a serving dish, pour over half of the pesto (freeze the rest or keep in the fridge covered in oil for a later day) and mix well. If too dry, add a little of the reserved cooking water.
Serve piping hot!