Autumn Delicata Squash Salad
Autumn Delicata Squash Salad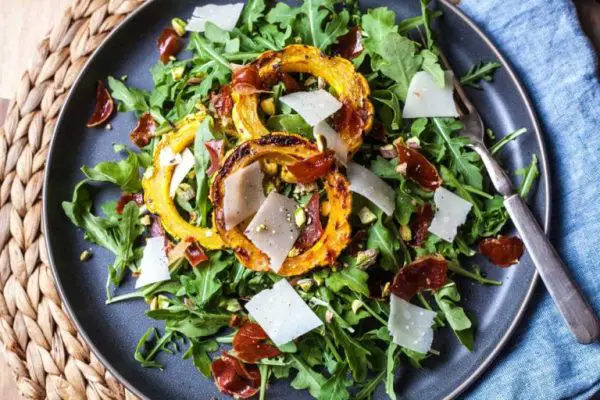 Autumn Delicata Squash Salad with Figgy Dressing
Autumn Delicata Squash Salad with Figgy Dressing
Makes roughly 4 salads
2 Delicata squash, seeded and cut into half inch rings
La Quercia Prosciutto
1 TBSP DB Classico Olive OIl 
Fine Sea Salt
Cracked black pepper
Parmigiano Reggiano, shaved
¼ CUP pistachios , shelled and roughly chopped
5 OZ bag of arugula
½ CUP DB Sicilian Extra-Virgin Olive Oil
3 TBSP DB "Silver" Barrel-Aged Balsamic Vinegar
½  TBSP DB Fig & Acacia Honey Jam
½  TBSP Fig Molasses
¼ TSP fine sea salt, to taste
A garlic clove finely minced
Delicata Squash.

If you're unfamiliar with Delicata, it's small, cylindrical, and yellowish with green and orange stripes. It has quickly become my most sought after squash for a few reasons. Firstly, Delicata squash are petite and easy to prepare, unlike some other popular varieties (I'm looking at you, Butternut!). Secondly, it has a soft, edible skin, so there's no peeling involved. Hurrah! Thirdly, they have a wonderful, sweet flavor and sure do look pretty on a plate. Are they your favorite yet? I like to use roasted squash rings in my autumn meal prep rotation. You can start out eating them as a side, then they can go on a salad, and if there's any leftover near the end of the week they can be blended into a soup. So many possibilities!
Roast the squash and bake the prosciutto
Preheat the oven to 425°F.

Cut both ends off the squash. Cut it crosswise through the middle. Scoop out the seeds from each half. (I like using a serrated grapefruit spoon for my squash scooping).

Now slice the two halves into ½ inch rings.

Toss the rings in a bowl with 1 TBSP of olive oil, 1/4 TSP of kosher salt and a few grinds of cracked black pepper.

Arrange the rings on a parchment lined baking sheet and roast in the preheated oven for 22 minutes total,

Make the Dressing
In a bowl or jar combine olive oil, vinegar, jam, garlic and molasses. Vigorously whisk together to create an emulsified vinaigrette. (I like to make it in a mason jar and shake it up so I can put a lid on it and use it later.) Add salt and black pepper to taste.

Assemble the salad
Start with a base of a few handfuls of arugula.

Layer a few rings of squash.

Shave the Parm over top using a vegetable peeler or mandoline on a thin setting.

Drizzle the figgy dressing.

Sprinkle with pistachios and crumbled prosciutto chips.
Once you've made the salad, you're left with the components of a delightful autumn cheese board. Arrange squash rings with Parm and pistachios. Drizzle with the fig molasses or balsamic, go nuts! Make more fig dressing and try it on chicken or pork.
Join Joanne and Frank on Facebook at
and