Baked Eggs Portabella Mushrooms with Zucchini Ragout
Baked Eggs Portabella Mushrooms with Zucchini Ragout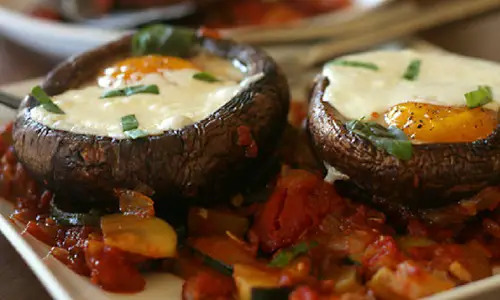 Ingredients
2 teaspoons olive oil

1 onion, chopped

3 cloves garlic, minced

½ teaspoon dried crushed red pepper

1 pound medium zucchini, trimmed, quartered lengthwise, sliced ¼-inch thick

salt

1 (28-ounce) can diced tomatoes, drained

4 large portabella mushrooms, caps wiped clean

4 large eggs

4 ounces fresh mozzarella, sliced

2 tablespoons chopped fresh basil
Directions
Heat the oil in a large oven-safe nonstick skillet over medium heat. Add the onions and cook about 8 minutes, stirring occasionally, until just browned at the edges. Add the garlic and pepper flakes; stir constantly for about 30 seconds, until fragrant. Add the zucchini and ½ teaspoon salt; cook until tender, stirring often, about 10 minutes. Add tomatoes; simmer uncovered until mixture thickens, about 10 minutes. Season with salt and pepper.

Meanwhile, adjust an oven rack to the upper-middle position, place a baking sheet on the rack, and heat the oven to 400 degrees. Remove the stems from the mushrooms and use a spoon to scrape out the gills. On the non-gill side of the mushrooms, score ¼-inch deep lines ½-inch apart in two directions that meet at right angles. (This will help the mushrooms lose liquid before you add the eggs.) Spray the mushrooms with nonstick spray and sprinkle them with salt. Place the mushrooms stem side up on the hot baking sheet; roast for 8 minutes. Turn the mushrooms stem-side down and roast for an additional 8 minutes, until softened and wrinkled.

Crack the eggs into separate small dishes. Arrange the roasted mushrooms stem-side up in the ragout. Pour an egg into each mushroom; season with salt and pepper. Roast for 10 minutes, until the egg whites are starting to become opaque. Top with the cheese; return to the oven and cook an additional 5 to 8 minutes, until the cheese is melted and the eggs are cooked to your liking. Top with the basil; serve.