Baked Gnocchi with Spinach and Goat Cheese
Baked Gnocchi with Spinach and Goat Cheese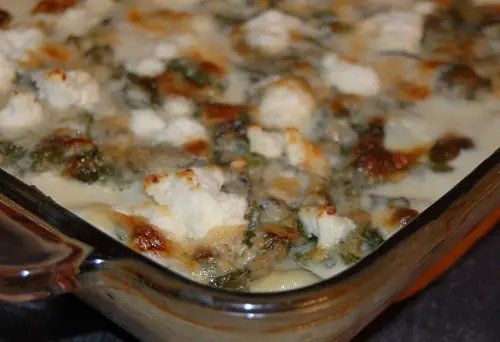 Ingredients
 17-ounce potato gnocchi
1 1/2 cups heavy cream
1/2 cup chicken broth
1/8 cup all purpose flour
Salt and pepper to taste
Dash of nutmeg
6 ounces baby spinach
2 ounces goat cheese
1/4 cup freshly grated parmesan cheese
Directions
1. Preheat oven to 400 degrees. Place gnocchi in a lightly greased 8 x 8 inch baking dish and set aside.
2. In a medium saucepan, whisk together cream, broth, and flour over medium heat. Continue whisking until the sauce is simmering and thickened, about 5 minutes.
3. Add salt, pepper and nutmeg, and stir to combine. Add spinach and toss to coat in the cream. Pour the cream and spinach mixture over the gnocchi evenly, spreading the spinach out to cover all the potato dumplings.
4. Crumble goat cheese over the spinach. Sprinkle with parmesan cheese. Bake until the top is golden in places, about 30 minutes.