Baked Stuffed Apples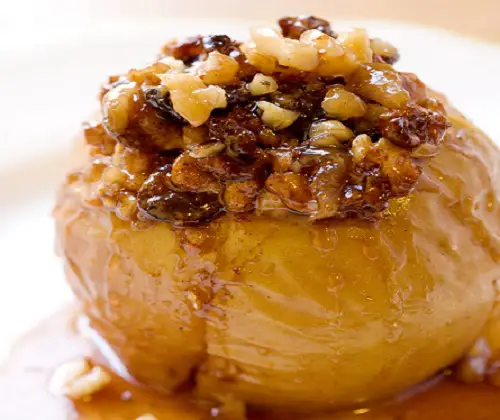 Ingredients:
Makes: 6 servings
Prep: 15 minutes
Cook: About 40 minutes
3 Large Apples sliced in half horizontally, and cores removed

1/2 c. Coarsely chopped Almonds or Pignolis (toast them if you like)

Zest of 1 fresh lemon

1/4 c. chopped Crystallized Ginger ( I like Melissa's)

1 Tsp. Cinnamon

Pinch Salt

5 Tbsp. Sugar

1 1/2 c. Ricotta Cheese

4 Tbsp. Melted Butter

Honey for drizzle
Instructions:
Oil a baking dish and place the apple halves in it face up.

Crush the biscotti coarsely– do not grind them to a powder. Little chunks – not too big are nice in the filling.

Put the following ingredients in a bowl and mix together: Crushed biscotti, coarsely chopped almonds, Lemon Zest, Crystallized Ginger, cinnamon, salt, and sugar.

Add the ricotta and mix well.

Mound the stuffing on top of the apples. This stuffing should fill 6 halves mounded high or 8 if you want to fill less. I like them really full.

Drizzle the stuffed apples with melted butter and drizzle with honey.

Top with sliced almonds.

Bake, tented with foil, at 400 degrees for about 30 minutes.

Remove the cover and bake at same temperature for about 10-15 minutes more. Watch them. As soon as the tops brown and the apples are fork tender – remove them from the oven.