Baked Stuffed Haddock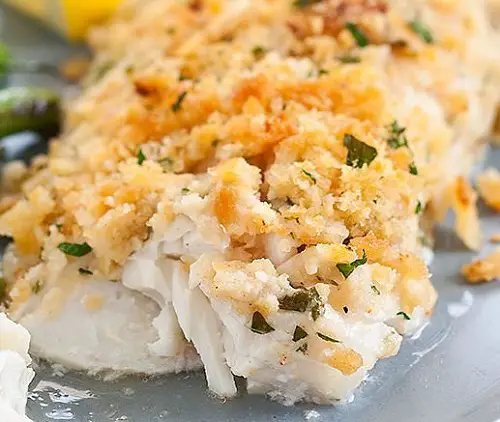 Ingredients
Serves: 2-3
Prep: 30 minutes
Cook: about 25 minutes
3/4 lb. Haddock fillet ( or similar fish)

3 Tbsp. Olive Oil

1/2 Onion – chopped

1 Tbsp. Chopped Fresh Chives

1 Clove Garlic chopped finely

2 Tbsp. Fresh Basil chopped

1/2 Tsp. Dried Oregano or 1 Tbsp. Fresh Oregano

1 1/2 C. Fresh White Breadcrumbs

4 Whole Artichoke Hearts (canned is fine) – rinsed, drained, and chopped

2 Tbsp. Fresh Lemon Juice – divided

2 Tbsp. Clam Juice

1/4 C. Dry White Wine

Old Bay Seasoning

Drizzle of Extra Virgin Olive Oil
Instructions
Place Haddock fillet on greased foil in pan.

Drizzle with a little of the extra virgin olive oil.

In a pan, heat the olive oil along with the chopped onion and chives.

Add the garlic and toss in the pan about a minute.

Add artichoke hearts, oregano, and basil to the pan, tossing lightly at medium high.

Add the clam juice, white wine, 1 Tbsp. lemon juice, and fresh breadcrumbs, cooking 3 minutes more.

Remove from heat

Place stuffing on top of the fish and press lightly to make it adhere and stay on the fish.

Drizzle remaining 1 Tbsp. Lemon Juice over the stuffing and drizzle with Extra Virgin Olive Oil.

Sprinkle the top of the stuffing with the Old Bay Seasoning.

Bake at 400 degrees for about 25 minutes. I like to cook this on the top shelf of the oven for nice browning and toasting of the crumbs.