Baked Stuffed Lobster Recipe with Shrimp & Scallops
Baked Stuffed Lobster Recipe with Shrimp & Scallops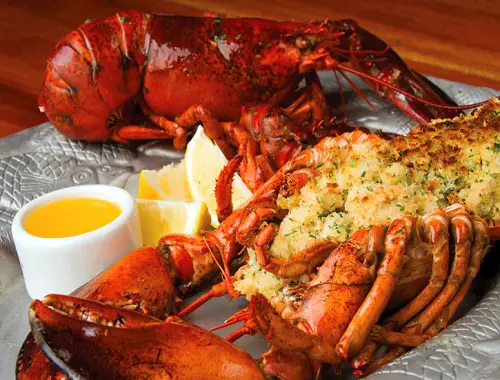 Make this baked stuffed lobster recipe  go overboard with fresh scallops and shrimp for a seafood dinner to remember. Old Bay Seasoning makes the stuffing.
Ingredients:
Serves 2
Live lobster: (2) 1 ¼  to 1 ½ lbs.

Stuffing Ingredients:
Cubed White Bread: about 6 slices

Breadcrumbs: ½ cup

Onion, diced : ½ cup

Garlic, minced: ½ tsp.

Parsley, fresh or dry (chopped): ½ tsp.

Bay Scallops: 6 each

Medium Shrimp cut in chunks: 4 each

Butter: ¼ lb. (1 stick)

Water: ½ cup

Old Bay Seasoning: ¼ tsp.

Salt: ¼ tsp.

Pepper: ¼ tsp.

Lemon Juice: ¼ tsp.
Lobster Stuffing
 In large saucepan, melt butter.  Add onion and garlic.

 Cook slowly.  Add shrimp chunks and scallops. Cook for 2 minutes. Add the rest of the ingredients.  Mixture should form into stuffing.
Baked Stuffed Lobster
Cut lobster lengthwise but don't cut all the way through.  Remove intestine, (orange material). The lobster is normally still alive at this point. If you choose to you can place the lobster in fresh water for 15 minutes.This will humanly kill the lobster and then you can begin to cut it in half.

Pack stuffing into length of lobster. Drizzle stuffed lobster with melted butter.

Bake on a cookie sheet in the oven at 350 degrees until the lobster turns red and stuffing is golden brown.  About 15 – 20 minutes.