Beef and Polenta Pie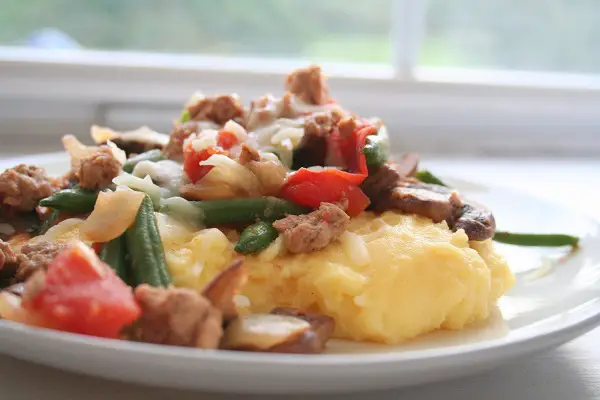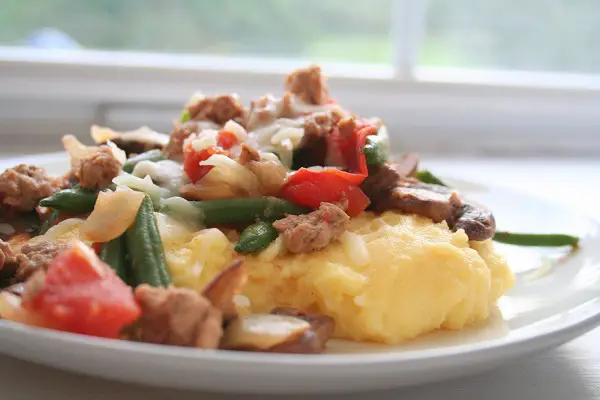 Ingredients:
    2 tablespoons extra-virgin olive oil

    One 6-ounce package portobello mushroom caps, cut into cubes

    1 onion, chopped

    1 1/4 pounds ground beef

    Salt and pepper

    One 14.5-ounce can diced tomatoes

    1 cup instant polenta

    1/2 cup heavy cream

      1⁄2

cup grated parmesan cheese, plus more parmesan cheese, for sprinkling

    One 10-ounce package frozen green beans, thawed and drained
Directions
In a large skillet, heat the olive oil over medium-low heat. Add the mushrooms and onion and cook, stirring, until softened, about 7 minutes.

Add the beef, season with salt and pepper and cook over medium-high heat, stirring, until browned, 4 to 5 minutes. Stir in the tomatoes, lower the heat and simmer.

In a medium saucepan, bring 3 cups water and 3/4 teaspoon salt to a boil. Whisk in the polenta until thickened, about 3 minutes.

Whisk in the cream, parmesan and 1/4 teaspoon pepper until smooth; pour into a large casserole dish.

Stir the green beans into the beef mixture and cook over medium heat, stirring, until warmed through, about 2 minutes.

Season with salt and pepper. Spoon the mixture over the polenta and top with more parmesan.