Beef rolls with arugula and bacon
Beef rolls with arugula and bacon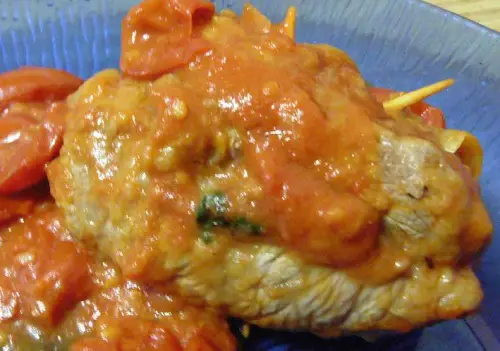 Ingredients
for 6 people:
 6 slices of beef, thin

6 slices bacon

1 bunch arugula

1 carrot, cut into julienne

6 teaspoons of grated Grana Padano cheese

margarine 160 gr

flour

datterini canned tomatoes 500g

1 teaspoon cumin seeds

olive oil

salt, pepper.
 PREPARATION
Flour the slices of meat on both sides then place them one at a time on the work surface and lie down on a slice of bacon, a bit of rocket and a bit carrot; add a teaspoon of grated cheese, season with salt and pepper and wrap the meat on itself to form a roll that will stop with a toothpick (or with the white wire to cook).

Repeat the same operation for all the slices.

In a saucepan, put to heat the margarine, then add the rolls and brown them on all sides for about 10 minutes, then add the tomatoes coarsely crushed, sprinkle with half a glass of warm water, add the cumin seeds and readjust to salt and cook with the lid and heat for 30 minutes stirring frequently.
Serve hot or warm.