Andrea Bocelli – BEST Song EVER! – The Lord's Prayer with Mormon Tabernacle Choir
Andrea Bocelli 
One of his BEST EVER!
The Lord's Prayer
with the
Mormon Tabernacle Choir in Salt Lake City
I happen to love pretty much everything Andrea Bocelli puts out. And I can't tell you which is my favorite…. I found my Love in Portofino ranks way up there though.
That said,  Many of our family members consider this rendition of the Lord's Prayer the BEST Andrea Bocelli song EVER.
Listen as he joins the Mormon Tabernacle Choir in Salt Lake City, Utah for an unforgettable rendition of "The Lord's Prayer."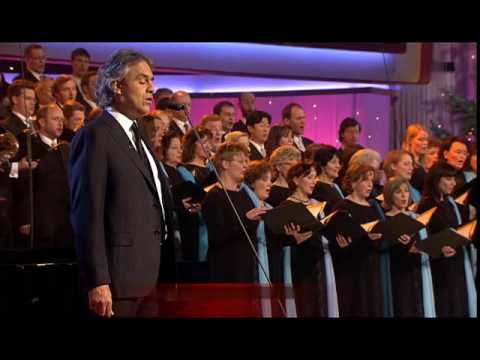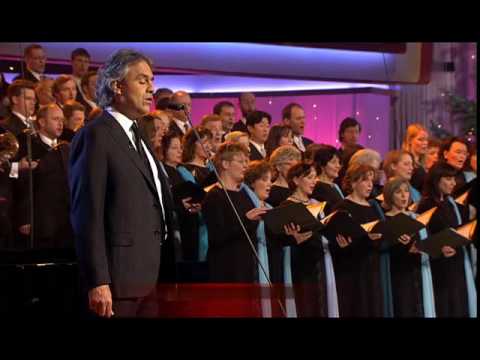 *
The Tabernacle was completed in 1867 and the choir held its first concert there on July 4, 1873.
The choir started out fairly small and rather undisciplined. In 1869, George Careless was appointed as the choir's conductor and the Tabernacle Choir began to musically improve. Under Careless, the first large choir was assembled by adding smaller choral groups to the main Salt Lake Choir. This larger choir, just over 300, sang at the church's October 1873 general conference. It was at this point that the choir began to match the size of the spacious Tabernacle. On September 1, 1910, the choir sang the song, "Let the Mountains shout for Joy", as their first ever recording. Three hundred of the 600 members showed up for the recording.
Since July 15, 1929, the choir has performed a weekly radio broadcast called Music & the Spoken Word, which is one of the longest-running continuous radio network broadcasts in the world.
Later directors brought more solid vocal training and worked to raise the standards of the choir. The choir also began improving as an ensemble and increased its repertoire from around one hundred songs to nearly a thousand. In July 1929, the choir performed its first radio broadcast of Music & the Spoken Word. By 1950, the Tabernacle Choir at Temple Square performed numerous concerts each year and had released its first long-playing recording. During the 1950s, the choir made its first tour of Europe and earned a Grammy Award for its recording of the "Battle Hymn of the Republic". Later directors of the choir continued to hone and refine the choir's sound.
At the end of the choir's 4,165th live broadcast on July 12, 2009, the show's host, Lloyd D. Newell, announced another milestone that the show had hit: the completion of its 80th year in existence. The show has been televised since the early 1960s and is now broadcast worldwide through approximately 1,500 radio and television stations.
Hope you enjoy!