Braised Beef Cheeks Recipe
Braised Beef Cheeks Recipe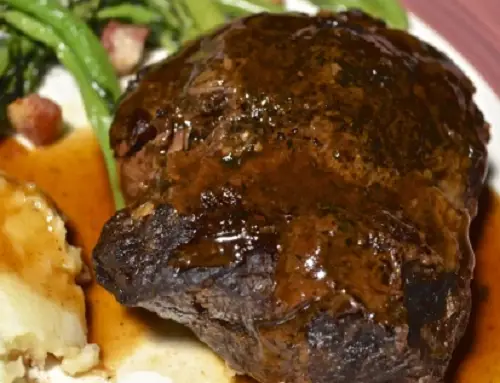 Ingredients
2 beef cheeks, approximately 1.2 lbs (540 g)

2 tbsp olive oil

4 oz guanciale, chopped – pancetta or bacon may be substituted

3 cloves garlic, chopped

1/4 c parsley, chopped

1 medium onion, chopped

2 stalks celery, leaves included, roughly chopped

2 carrots, roughly chopped

3 sprigs fresh thyme

2 sprigs fresh rosemary

3 tbsp tomato paste

3/4 c red wine

3/4 c Madeira

1.5 c beef stock

salt and pepper

lemon zest
Directions
Combine chopped guanciale, parsley, and garlic on your cutting board and chop them together until uniform. This is the battuto.

Warm oil in a sauté pan over med-high heat. Add the battuto and sauté until the guanciale's fat is rendered, about 5 – 7 minutes. Do not allow to burn.

Add onion, carrots, and celery to the pan and sauté until the onion is translucent.

Add the rosemary and thyme to the pan. Continue sautéing until both begin to wilt.

Use a slotted spoon to remove the pan's contents and place all into the slow cooker. Do not drain the oil.

Season beef cheeks with salt and pepper before placing into the hot pan. Turn when brown, about 5 minutes. Remove when both sides have been browned. Place into the slow cooker atop the other ingredients.

Add the tomato paste to the pan and sauté until fragrant, about 1 minute.

Use wine to deglaze the pan.

Add the Madeira and beef stock and bring to a boil to burn off the alcohol.

Add the liquid to the slow cooker. (See Notes)

Cook on high for one hour before reducing to low for another 6 hours. Turn over the meat occasionally, about once every 90 minutes, or so. (See Notes)

Remove meat and cover while the liquids are strained and the sauce prepared. (See Notes)

Just before serving, garnish with a bit of lemon zest.
Notes
The braising liquid should not be so deep that the meat is totally submerged like you would do for a stew or soup. When using a slow cooker. the liquid should come about half-way up the side of the beef cheeks. When using a Dutch oven, I use enough liquid so that it comes up 2/3 of the side of the protein to allow for evaporation. Use more or less liquid to arrive at the recommended level. Just maintain the same ratio of the braising liquid's ingredients: 2 parts beef stock to 1 part each of Madeira and red wine.
A slow cooker works by applying a low, even temperature over a long period of time. Do not uncover the cooker unless necessary or you'll run the risk of extending the cooking time.
Parsnips are a bit more firm than potatoes. When preparing them, chop the parsnips in pieces that are slightly smaller than the potatoes to insure that all will finish cooking at the same time.
Once you've strained the liquids and removed the fat, you can:
serve the sauce as-is;

reduce it and serve; or,

use a thickening agent — flour, corn starch, or arrowroot — to make gravy.
No matter how you finish the sauce, be sure to taste and adjust the seasoning as needed.