Breaded Eggplant Surprise (Melanzane Impanate a Sorpresa)
Breaded Eggplant Surprise
(Melanzane Impanate a Sorpresa)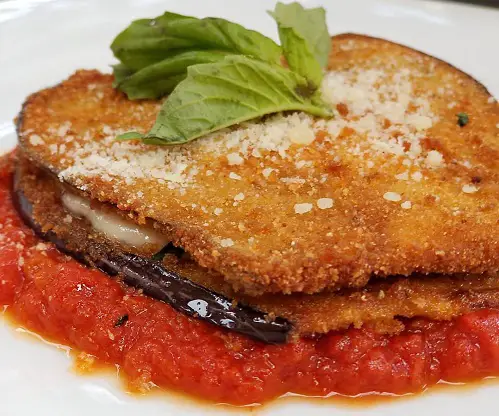 Ingredients:
1 lb and 5 oz (600 grams) round eggplants, cut into 1/4-inch (5 mm) thick slices
4 and 1/2 oz (120 grams) provolone, smoked scamorza or other stretched curd cheese, diced
3 and 1/2 oz (100 grams) prosciutto, diced
2 eggs
3 oz (80 grams) breadcrumbs
1 fresh flat-leaf parsley sprig, chopped
2 tablespoons Parmigiano cheese, freshly grated
Extra virgin olive oil, for brushing and frying
Salt and pepper
Directions:
Place the eggplant slices in a colander.
Sprinkle with salt and leave to drain for about 30-35 minutes.
Mix together the prosciutto, scamorza or provolone, Parmigiano cheese and parsley in a bowl.
Season with salt and pepper.
Preheat the grill to high.
Rinse the eggplants, pat dry carefully and brush with a little olive oil.
Grill until golden brown on both sides.
Sandwich the slices together in pairs filled with the prosciutto and cheese mixture.
Beat the eggs with a pinch of salt in a shallow dish and spread out the breadcrumbs in another shallow dish.
Heat the olive oil in a large frying pan.
Dip each eggplant sandwich first in the beaten eggs, then in the breadcrumbs.
Fry in the hot olive oil until evenly browned all over.
Remove with a fish slice and drain on kitchen paper.
Arrange on a warm serving dish. Serves 4.