Bucatini

with Mushrooms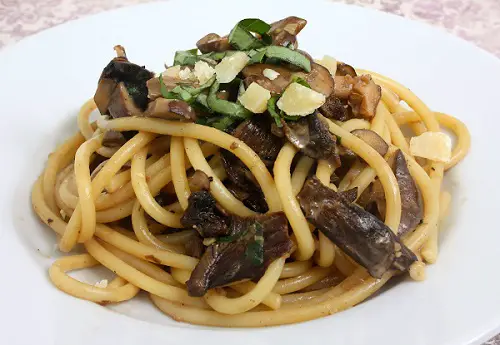 Ingredients
4 servings
    1/2 cup dried porcini mushrooms (about 1/2 ounce)

    2/3 cup boiling water

    8 ounces uncooked bucatini

    3 1/2 teaspoons salt, divided

    1 tablespoon butter

    1/4 cup finely chopped shallots

    2 (4-ounce) packages exotic mushroom blend, coarsely chopped

    2 garlic cloves, minced

    2 tablespoons dry marsala wine

    2 ounces Parmigiano-Reggiano cheese, divided

    1/4 cup heavy whipping cream

    1 teaspoon finely chopped fresh basil

    1/2 teaspoon cracked black pepper

    Basil sprigs (optional)
Preparation
 Rinse porcini thoroughly. Combine porcini and 2/3 cup boiling water in a pot; cover and let stand 5 minutes while continuing to boil. Remove pot from the heat and let stand 25 more minutes.

Drain in a sieve over a bowl, reserving 1/4 cup soaking liquid. Chop porcini.

 Cook pasta with 1 tablespoon salt in boiling water 10 minutes or until al dente; drain in a colander over a bowl, reserving 1/4 cup cooking liquid.

 Melt butter in a large skillet over medium-high heat. Add shallots, mushroom blend, and garlic; sauté 5 minutes, stirring frequently.

Stir in porcini, wine, and 1/4 teaspoon salt; cook 1 minute or until liquid evaporates.

Finely grate 1 ounce cheese; crumble remaining cheese. Reduce heat to medium.

Stir in pasta, 1/4 cup reserved cooking liquid, 1/4 cup reserved porcini soaking liquid, remaining 1/4 teaspoon salt, 1/4 cup grated cheese, cream, chopped basil, and pepper; toss well to combine.

Place about 1 1/4 cups pasta mixture on each of 4 plates; top each serving with about 1 tablespoon crumbled cheese.

Garnish with basil chiffonades, if desired.