Bucatini With Siclian Tuna Sauce
Bucatini With Siclian Tuna Sauce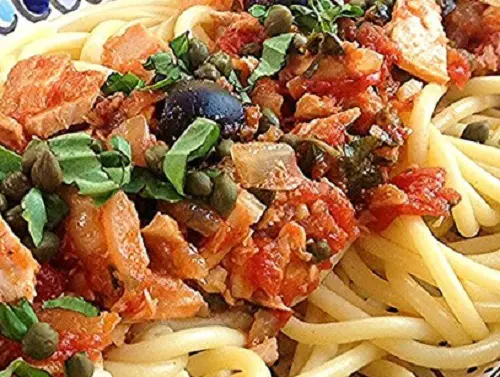 Ingredients
Serves: 4
Prep: 20 minutes
Cook: about 20 minutes
1 lb. Bucatini or Perciatelli Pasta – cooked according to package directions

1/4 C. Olive Oil

1 Onion chopped

1 Fennel Bulb chopped (optional)

3 Cloves Fresh Garlic – chopped finely

2 Cans (5 oz.) White Albacore Tuna packed in oil (see above for my favorite tuna for this dish) – chopped just a little

1/4 C. Fresh Basil chopped

2 Tbsp. Fresh Italian Parsley – chopped

1 28 oz. Can San Marzano Whole Peeled Tomatoes – drained with 1/2 cup of juices reserved

1/4 Tsp. of red pepper flakes

1/4 C. Capers, drained – not rinsed

1 Cup Whole Pitted Black Olives or Castelvetrano Olives (bright green Sicilian ones)

Kosher or Sea Salt and freshly ground Black Pepper to taste

Extra fresh Basil for garnish
Instructions
Heat oil in a pan and add the onion and fennel.

After cooking about 6 minutes on medium high, add the garlic and cook another minute.

Then add the tuna and the herbs– do not chop the tuna too finely. Just give it a few whacks with the knife.

Add the 1/2 Cup of reserved tomato juices along with the tomatoes after crushing them with your hands or in blender. Do not puree the tomatoes. This should be a very chunky sauce which is why I like the hand crushing method.

Add the red pepper flakes, and cook at a strong simmer for about 15 minutes (cooking out much of the liquid and concentrating the flavors).

Add the capers and olives for the last 5 minutes of cooking. Gently stir so you won't break up the tuna too much.

Serve with lots of fresh chopped Basil!