Burgers Italian Style With Tomato Pesto
Burgers Italian Style With Tomato Pesto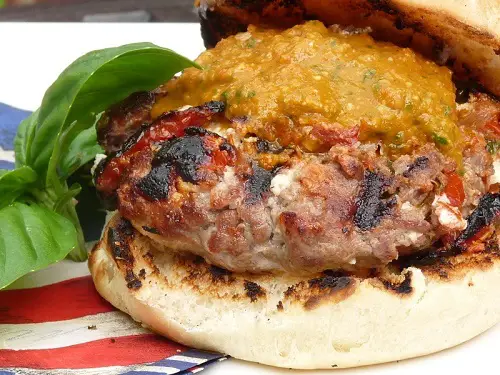 BURGERS ITALIAN STYLE
Makes: about 4-5 burgers
Prep: 10 minutes
Ingredients
1 lb. Ground Beef Chuck – preferably with about 20% fat

Kosher Salt and Freshly Ground Black Pepper to taste

3 oz. Feta or Goat Cheese broken into pieces – not too small

1/4 C. Fresh Basil Leaves – chopped

1/2 Tsp. Red Pepper Flakes

4 oz. (about 1/2 c.) Sundried Tomatoes, packed in oil – cut into small strips or julienne

1 beaten egg
Instructions
Mix all of the above ingredients together.

Form patties of your desired size.

Freeze or take them straight to the hot grill.
Tip: Try grilling your buns – They are so much better that way.
Top with Tomato Pesto!
TOMATO PESTO
Makes: about 1- 1 1/4 c.
Prep: 10 minutes
Ingredients
3 Ripe Medium Plum Tomatoes – (approx. 9 oz.)

1 Fresh Garlic clove

3/4 c. Fresh Basil Leaves

1 Tbsp. Mayonnaise

1/4 Tsp. Red Pepper Flakes

1/2 Tsp. Kosher Salt

Freshly Ground Black Pepper

1/4 c. Grated Parmigiano-Reggiano Cheese

2 Tbsp. Extra Virgin Olive Oil
Instructions
Coarsely chop tomatoes and garlic and add to blender.

Add the basil, mayonnaise, red pepper, salt, black pepper, and Parmigiano to the blender.

Blend and, at the same time, slowly drizzle in olive oil.