Butterfly pasta with peas
Butterfly pasta with peas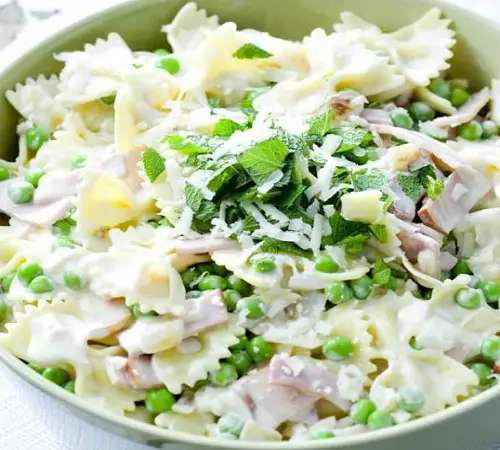 Ingredients For 6 people:
For the dough
Flour 500g
2 eggs
Grana Padano cheese 30 gr
salt.
For the flavor
Shelled peas 250g
diced ham 100 gr
1 onion, chopped
2 ladles of broth
butter 60g
grated Parmesan cheese 60 gr
2 tablespoons extra virgin olive oil
salt.
PREPARATION
Pour the flour on a pastry and add the eggs, grated cheese and a pinch of salt, then mix well and when the mixture is smooth and elastic, roll out the dough to about 3 mm thick. Cut it with the cogwheel in strips about 4 X 6 cm then tighten the center between thumb and forefinger giving them the shape of a butterfly.
Let them dry for about 2 hours covered with a tablecloth and in the meantime prepare the sauce.
In a saucepan, sauté the oil with 20 grams of butter and the finely chopped onion, then add the diced ham.
Let cook for about 5 minutes and add the peas doing simmer, stirring occasionally, for about 10 minutes. Season with salt and,  finish the cooking with the lid, adding the broth when the sauce tends to thicken too.
Put to boil in a pot of salted water, pour the pasta and just come to the surface, drain and place them in a serving dish, season with the sauce of peas and ham, add a little 'hot butter and a generous sprinkling of grated cheese.
Serve hot.