CALAMARATA PASTA WITH SQUID SAUCE
CALAMARATA PASTA WITH SQUID SAUCE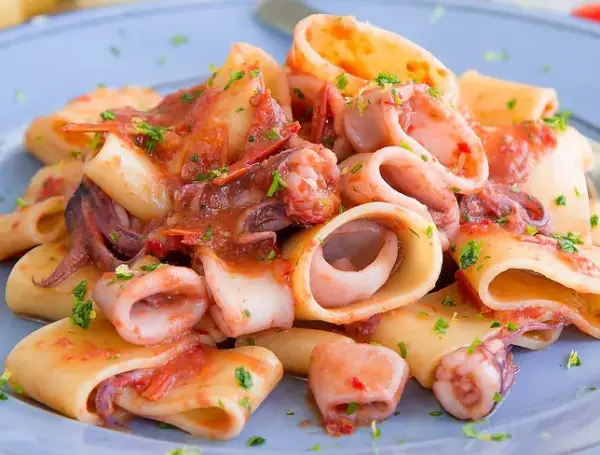 Calamarata is one of the most loved Neapolitan shapes of pasta. These big Maccheroni are often paired with fish and seafood,

Ingredients
    14 oz (400 g) pasta Calamarata

    2 Lb (900 g) fresh squids

    1 Lb (450 g) cherry tomatoes

    1 clove garlic

    ¼ cup white wine

    1 organic lemon (optional)

    3 tbsp extra-virgin olive oil

    1 fresh chili pepper (alternatively, chili powder)

    1 tbsp fresh parsley, minced

    tap here

    to taste table salt

    4.5 tbsp coarse salt
Instructions
SQUIDS AND TOMATOES
  First, rinse the cherry tomatoes, and cut them into halves.

   After that, clean the squids, then cut the biggest tentacles into halves, and reduce the tubes into rings as long as the Calamarata pasta.

   Finally, store the tomatoes and the squids into two different bowls, and place in the fridge.
GARLIC AND CHILI PEPPERS
    Now, peel and mince the garlic. Then, cut the chili pepper into halves, discard the tip and the seeds, and finally, mince the red part.

    Finally, pour the garlic and pepper into a saucepan along with 3 tbsp of olive oil.

    Sauté a few minutes over low/medium heat until pale golden.
SQUID SAUCE
    At this point, add the squid rings and tentacles into the pan, raise the flame and baste with the white wine.

    Let the alcoholic part evaporate a couple of minutes, then add the cherry tomatoes.

    Simmer the squid sauce 10 to 15 minutes: you want the squids done, but not chewy.

    In case the sauce is still too watery, raise the squids, store them into a bowl, then increase the flame and reduce the sauce until creamy.

    Finally, salt to taste.
CALAMARATA
    Now, boil the pasta into a pot filled with 5 Qt of water and the coarse salt.

    Raise the pasta "al dente" and toss with the squid sauce.

    Eventually, garnish with minced parsley, black pepper, and the grated skin of an organic lemon.
    Serve immediately.