Calamari alla Marchigiana
Calamair Alla Marchigiana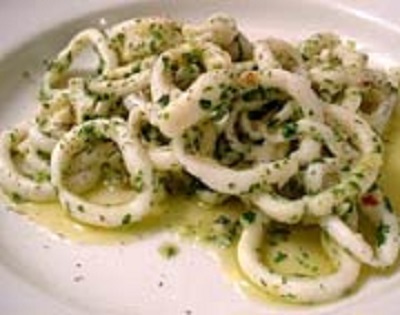 Ingredients:
Serves 4
1 and 3/4 lbs small squid, cleaned
1 fresh flatleaf parsley sprig, chopped
2 salted anchovies5 tablespoons extra virgin olive oil
1 garlic clove
5 tablespoons white wine
Salt and pepper
Directions:
Remove the anchovy heads, clean and fillet them.
Soak in cold water for 10 minutes and drain.
Chop the anchovy fillets.
Heat the olive oil in a pan with the garlic and parsley.
Add the squid and anchovies.
Season lightly with salt and pepper.
Cook over a low heat for 10 minutes.
Stir in the wine and 2-3 tablespoons water.
Simmer gently for about 20 minutes until tender. Serves 4.
Recipe from
https://www.cookiesfromitaly.com/recipes/marche_style_calamari.htm