Calamari Alla Marinara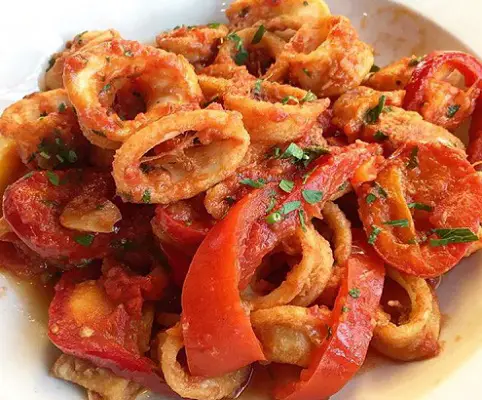 Ingredients:
    2 pounds (1kg) cleaned squid bodies and tentacles, bodies sliced into 1/2-inch rings and large tentacles halved
    ½ cup extra virgin olive oil
    Salt and black pepper
    3 garlic cloves, crushed and minced
    6 small tomatoes, cored, peeled cut into pieces

    1 red bell peppers, cleaned and cut into pieces
    2 teaspoons chopped fresh Italian parsley
    1/8 teaspoon dried oregano
Directions:
Pour the olive oil into a heavy sauté pan set over medium heat.
Add the calamari and sauté, turning once or twice, for 2 to 3 minutes.
 Season with salt and pepper.
Add the garlic, tomatoes, bell peppers,parsley, oregano and cook over low heat until the liquid begins to thicken.
Taste and adjust salt and pepper.
Serve immediately.    Now add your precooked calamari to the pan and season generously with salt and pepper. Cook over moderately high heat until browned, about 5-6 minutes. Flip the calamari and cook for 5 minutes longer.
    Serve hot.