CANDIED LEMON PEEL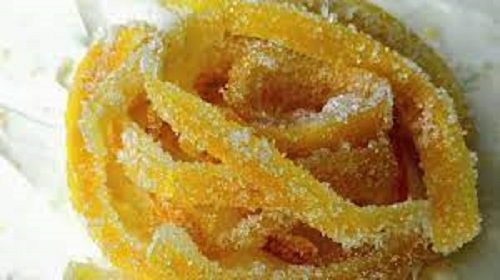 9-10 Fresh Lemons
5 c. sugar with extra for rolling at the end
2 c. water
Begin by cutting off the ends of the lemons.
Cut off the lemon rind with the pith on it – but not any of the fruit. It is easy to peel the skins off the oranges,but lemons are tougher and you'll be more successful with a knife.
Cut the rind into strips.
Place the strips in a pot with water to cover and bring to boil on high heat and strain out the water. Do this 4 times – each time bringing new water to a boil and straining off to help remove the bitter flavor.
Then add sugar and 2 cups water to a pot. Add a cinnamon stick. I like this addition!
Bring to a boil and reduce heat and simmer for 8-10 minutes or until the temperature reaches soft ball stage 230-234 degree.
Add the lemon peels and simmer until peels become translucent around 55 minutes.
Lemon skin is tougher than orange, and I think needs a little more time. Do not stir during this part.
Remove and drain the peels, and discard the cinnamon stick. I always save the syrup and keep it chilled in the refrigerator.
It is wonderful used to sweeten ice tea, hot tea, and it makes the morning oatmeal absolutely decadent!
Now roll the peels in sugar.
The Food Network Recipe advises to let them dry on a rack, but I always just lay them in a single layer on wax paper and turn them over after a while. I let them dry overnight, and then put them in a sealed container to be kept in a dry place.