Candy Cane Cookies
Every year our children look forward to helping make these candy cane cookies and leaving them out for Santa.  This is a family friendly recipe and the kids love playing with the cookie dough.  It keeps them busy for a while and they love eating the finished product.
From our home to yours, we hope you enjoy this recipe.
---
Candy Cane Cookies Recipe
Ingredients:
1 cup butter or margarine
1 cup sifted powder sugar
1 egg
1/2 teaspoon vanilla
1/2 teaspoon peppermint extract
Dash of salt
2 1/2 cups all purpose flour
1/2 teaspoon red food coloring
Directions:
In a large mixer bowl beat butter or margarine till softened.  Add powdered sugar and beat until fluffy.  Add egg, Vanilla, peppermint extract, , and salt.  Beat well.  Add flour and beat till well mixed.  Divide dough in half.  Mix food coloring into one half.  Cover each half and chill about 30 minutes or until easy to handle.
For each cookie, on a lightly floured surface shape a teaspoonful of plain dough into a 4 inch rope.  Repeat with a teaspoon full of red dough.  Place ropes side by side and twist together.  Pinch ends to seal.  Form twisted ropes into a cane.  Place canes 2 inches apart on an ungreased cookie sheet.
Bake in 275 degree oven for 8-10 minutes or till done.  Remove and cool on a wire rack.  Makes 48 cookies.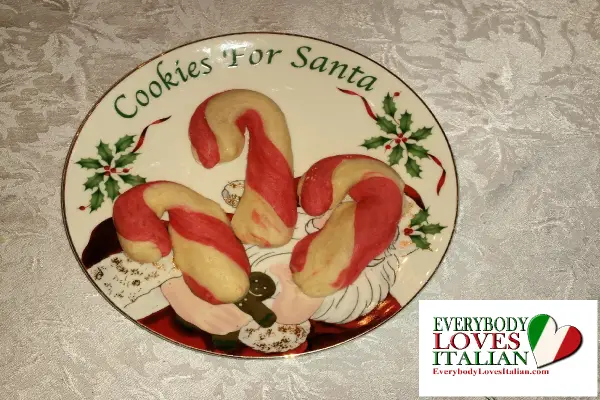 www