Caprese Breakfast Sandwich Recipe
Caprese Breakfast Sandwich Recipe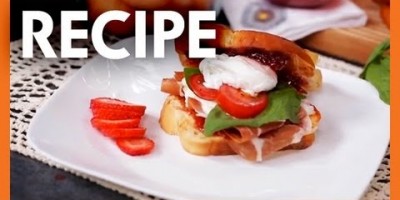 Caprese Breakfast Sandwich Recipe
 They say that breakfast is the most important meal of the day, so why not have a great tasting breakfast.  Before everyone gets upset, we realize that she did not use an Italian Bread.  We would use an Italian Bread. Feel free to make substitutions and include the things you like.  After all, Italians don't use recipes, we read them for ideas.
CAPRESE BREAKFAST SANDWICH:
INGREDIENTS
1 loaf challah bread, sliced into one-inch slices and toasted
4 tablespoons butter
6 eggs, poached
12 basil leaves
2 tomatoes, sliced thin and sprinkled with sea salt
1 package fresh mozzarella in water, sliced
8 ounces strawberry jam
6 strawberries, sliced
DIRECTIONS:
Slice Challah bread into one-inch slices & place in toaster. Spread the jam on toasted Challah bread, then layer with prosciutto, sliced mozzarella, basil, and tomato. Add a pinch of salt & cracked black pepper. Then top with poached egg. Instant happiness will occur.
I like to serve this with hash browns and a strawberry banana salad (like it's making feel a little healthier.)
To poach eggs properly, fill a deep sided skillet half way up with water and bring to a soft boil. Crack egg into a ramekin and add a tablespoon of vinegar to the water. Slowly pour the egg into the water and cook for 3 minutes. Remove with a slotted spoon and place onto a paper towel. Perfect!