Cardoons in Batter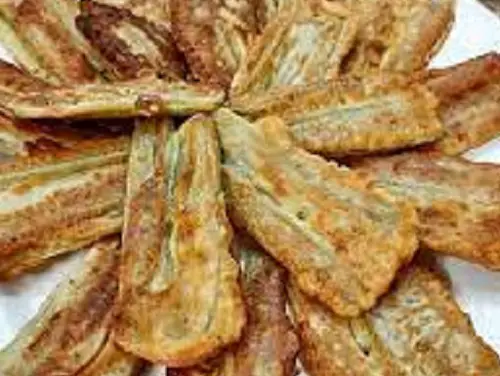 Serves 6 to 8
Ingredients:
2 small bunches  of cardoons prepared  see below

5 cups of canola oil for frying

½ lb. sifted all-purpose flour

2 medium eggs

¼ cup of water or milk

2 tablespoons of olive oil

1 teaspoon of white vinegar or lemon juice

½ teaspoon of baking soda or ½ oz. of yeast

salt to taste or 2 salted and boneless anchovies crushed into a paste
Preparation of Cardoons
When preparing cardoons for cooking, wear utility gloves to avoid staining your hands. Prepare a large bowl with enough water to soak the cardoons after they are trimmed, add to it 1 full tablespoon of salt and the juice of a lemon to prevent discoloration. Cut and discard about 1 inch from the top and trim the base far up enough so that the stalks can be easily separated. Using a potato peeler, remove the strings from the stalks, cut cardoons across into 2 inches pieces and place in the basin with the acidulated and salted water. Keep the cardoons in the salt and lemon juice solution from 6 to 12 hours.
Preparation
The Pastetta
In a bowl, beat the eggs with a whisk until whites and yolks are blended, add the milk or water, olive oil, vinegar or lemon, blend and set aside.
In a large bowl place the flour and add the egg mixture all at once.
Beat with a whisk until the mixture is without lumps. Keep whisking and add in the baking soda or yeast and the salt or anchovies.
The batter should be smooth, shining and flowing like a ribbon when you pick-up some of it with a spoon. If it is too thick add a little olive oil or a few drops of milk, if it is too watery add a small amount of flour.
Set aside covered for at least 15 minutes before using it.
The Frying
Take a few cardoons at a time and move them into the bowl containing the batter. Use a utility tong or a fork to turn and coat them; pick up a piece at a time, let excess batter drip off and transfer to the hot oil to fry.
My mother used her hands to do this operation.
Very carefully lower the cardoons into the oil, a few at a time.
Using a tong or fork, turn them to fry on both sides until golden brown.
Use a slotted spoon to remove them from the oil; dry on paper towels and sprinkle with salt.
Do not overcrowd skillet: it will lower the oil temperature and make the fried cardoons greasy.
Follow the same procedure for the remaining cardoons.
Serve hot.