Cassatine with ricotta from Puglia
Cassatine with ricotta From Puglia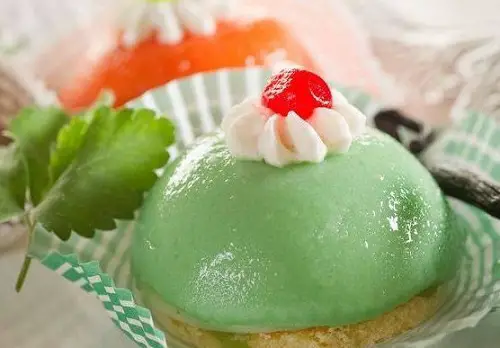 All the colors and flavors in these cassatine, all to decorate and be enjoyed on holidays!

Ingredients
For 6 people:
Ricotta 400g

Almonds 290 gr

sugar 290 gr

mixed candied fruit 60 gr

dark chocolate 60 g

grated rind of ½ lemon

½ cup Alchermes

8 slices of sponge cake ready

ground cinnamon

almond paste green 50 gr

almond paste pink 50g

almond paste brown 50g

almond paste yellow 50 gr.
PREPARATION
Make blanch the almonds in boiling water, peel and place in preheated oven at 180 degrees and let it toast for 5 minutes. Remove from the oven, let cool and cut them in chunks.

Chop candied fruit and dark chocolate.

In a saucepan, pour the sugar and add 4 tablespoons of water, then let it caramelize on low heat until they become lightly browned.

Lined the small molds with the sponge cake and sprinkle evenly with the liqueur Alkermes.

Separately in a bowl put the ricotta, add the ground almonds, candied fruit and caramel; mix well then add a pinch of cinnamon, grated lemon peel and chocolate. Stir gently.

Fill the molds with the mixture and place in the refrigerator for about two hours, then remove them from the oven, stretch the almond paste into a thin sheet (leaving aside some piece of dough for each color) and coat cassatine. Roll out at this point even the almond paste and cut remaining dough for decorations  as leaves and roses to apply on top of the small cassate.