Cheese, Zucchini and Red Onion Focaccia
Cheese, Zucchini and Red Onion Focaccia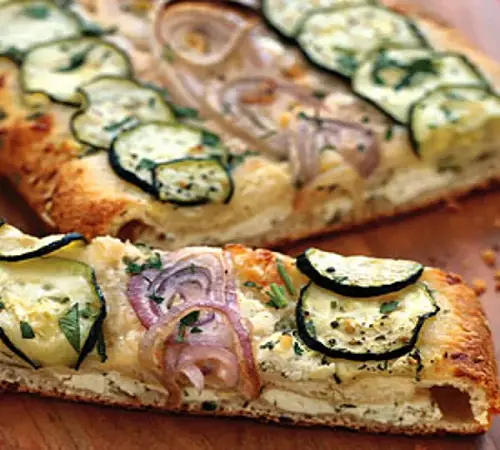 Ingredients:
Makes 4-6 servings
One 10-ounce tube refrigerated pizza dough

3/4 cup garlic and herb cheese spread (such as Alouette), divided

3/4 cup finely grated Parmigiano cheese, divided

1 small red onion

One 7 to 8-inch long zucchini (yellow or green), cut crosswise into 1/8-inch thick rounds, divided

3 tablespoons chopped fresh Italian parsley, divided

Extra virgin olive oil

Nonstick vegetable oil spray
Directions:
Preheat oven to 400°F.

Line baking sheet with parchment paper.

Spray with nonstick spray.

Unroll dough onto parchment.

Spread half of herb cheese over 1 long half of dough, leaving 1/2-inch plain border.

Sprinkle with half of Parmigiano cheese and 2 tablespoons parsley.

Using parchment as aid, fold plain half of dough over filled half (do not seal edges).

Spread remaining herb cheese over top.

Sprinkle with remaining Parmigiano cheese.

Remove enough outer layers of onion to yield 2-inch diameter core.

Cut into 1/8-inch thick rounds.

Arrange 1 row of zucchini down 1 long side of dough.

Arrange onion rounds in row alongside zucchini.

Arrange 1 more row of zucchini alongside onion.

Brush vegetables with olive oil.

Sprinkle with salt and pepper.

Bake bread until puffed and deep brown at edges, about 20-25 minutes.

Sprinkle with 1 tablespoon parsley.