Cheesy Italian Sausage Stuffed Polenta Bites
Cheesy Italian Sausage Stuffed Polenta Bites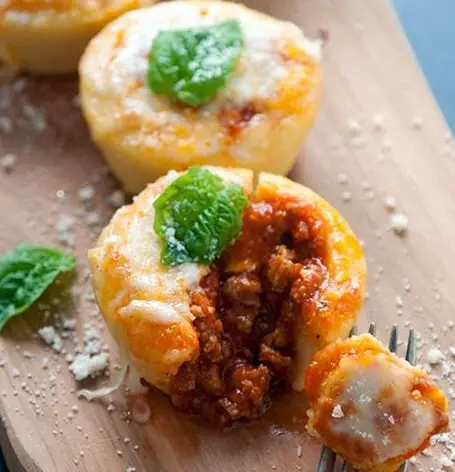 Ingredients:
3 1/2 cups chicken stock, plus 1 cup water

1/2 stick butter

8 ounces grated Havarti

1 pound loose Italian sausage

1/4 pound shredded provolone

2 tablespoons fresh basil
Directions:
Preheat oven to 350˚F.

Bring stock and water to a boil. Stir in polenta, stirring constantly to avoid clumping. Add butter and grated Havarti. Stir until combined. Immediately remove from heat and evenly distribute polenta into a 12-cup non-stick muffin pan. Allow to cool.

Once polenta cools, spoon out a hollow in the top of each muffin for stuffing. (you can use the cored out polenta for leftovers)

Meanwhile, in a large saucepan over medium-high heat, brown Italian sausage, breaking up while cooking. Once cooked through, stir in Pomodoro Fresco Sauce and cook until hot, about 7 minutes.

Fill each polenta muffin with meat sauce, then top with provolone. Bake until cheese becomes hot and bubbly, about 15 minutes.

Serve with freshly chopped basil.