Chianti-Style Meatloaf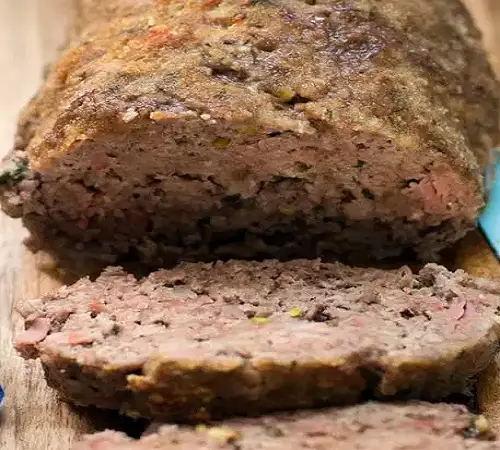 Ingredients:
Serves 8.
For the Meatloaf:
2 pounds beef (top round or sirloin, in one piece)

4 sweet sausages (without fennel seeds) or 12 ounces pork (in one piece)

1/2 pound thinly sliced prosciutto

3 slices white bread, crust removed

2 medium-sized cloves garlic

1/2 cup plus 1 tablespoon dry red wine

4 large fresh sage leaves

1/2 cup all-purpose flour

2 juniper berries

3 large eggs

2 tablespoons extra virgin olive oil

Salt

Freshly ground black pepper

Kitchen twine
For the Sauce:
4 tablespoons extra virgin olive oil

1 whole clove garlic

2 whole fresh sage leaves

1 cup dry red wine
Directions:
Prepare the Meatloaf:
Stir the white bread and 1/2 cup of the red wine in a saucepan over medium-high heat until a paste has formed, about 5 minutes.

Remove from heat and let cool.

Cut the beef into 1-inch cubes and remove the skin from the sausages.

Using a meat grinder, grind the beef, sausages, juniper berries, garlic and sage all together into a bowl, using the disc with the smallest holes.

Add eggs, olive oil, and remaining tablespoon of wine to the bowl and mix well.

Add the bread paste.

Season with salt and pepper, and mix again.

Arrange the prosciutto on a board with the slices overlapping to form an unbroken layer.

Shape the prepared meat mixture into a thick cylinder about 11 inches long and 4 to 5 inches wide.

Place the meat on the prosciutto and carefully wrap the prosciutto layer around it. Use a bit of thin kitchen twine to tie up the roll, and then lightly flour it.
Prepare the Sauce:
In a large skillet, heat the olive oil and saute the garlic and sage leaves for a few minutes over medium heat.

Add the meatloaf, turn up the heat, and saute 1 minute on each side until golden brown.

Preheat the oven to 375°F.

Transfer the meatloaf to a large baking dish.

Pour the wine over the meat then bake for 45 minutes, turning the meat twice and basting it several times with its own juices.

Remove the meatloaf from the oven.

Transfer it to a serving platter, cover, and let stand for about 5 minutes.

Untie the meat and carefully cut it into slices approximately 1/2-inch thick.