Chicken, Anchovy and Caper Roulades
Chicken, Anchovy and Caper Roulades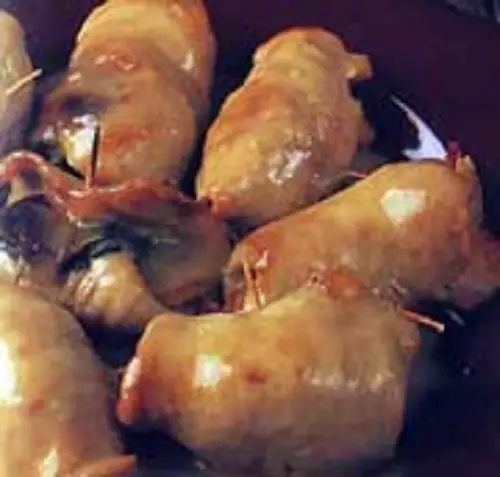 Ingredients:
4 salted anchovies, soaked in water and drained
4 skinless, boneless chicken breast portions
1 oz (25 grams) capers, drained and rinsed
1 oz (25 grams) butter
1 tablespoon extra virgin olive oil
1 onion, thinly sliced
2 fl oz (50 ml) dry white wine
Salt and pepper
Directions:
Place the anchovies skin side up and press along the backbones with your thumb, then turn them over and remove the bones.
Lightly pound the chicken with a meat mallet.
Divide the boned anchovies and capers among the chicken portions, roll up and secure with cocktail sticks.
Heat the butter and olive oil in a frying pan, add the onion and cook over a low heat, stirring occasionally, for 5 minutes.
Add the roulades and cook, turning frequently, until browned all over.
Season with salt and pepper, increase the heat to high, pour in the wine and cook until it has reduced slightly.
Lower the heat, cover and simmer for 20 minutes.
Transfer to a warm serving dish. Serves 4.