Chicken Cacciatore Risotto
Chicken Cacciatore Risotto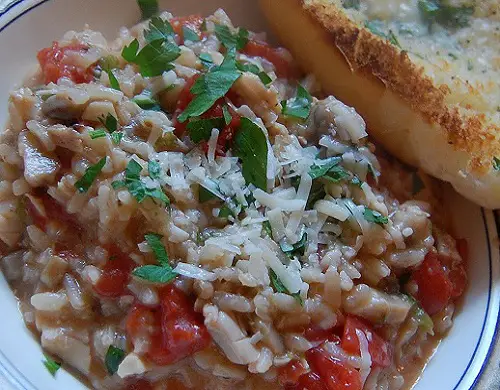 Ingredients
1 cup arborio rice

5 to 6 cups warm chicken stock

1 medium onion, diced

1 green bell pepper, diced

8 ounces mushrooms, roughly chopped

3 cloves garlic, minced

Salt and pepper to taste

1 cup cooked, shredded chicken

1 14.5-ounce can Italian-style diced tomatoes, undrained

1/2 cup freshly grated parmesan cheese

Chopped fresh flat-leaf parsley
Directions
1. In a high-sided skillet over medium-high heat, heat a small amount of olive oil. Add onion, bell pepper and mushrooms and cook until peppers are crisp-tender and mushrooms are beginning to brown. Add garlic; cook and stir 1 minute. Season with salt and pepper to taste.
2. Add rice to pan and cook until it begins to brown and smells nutty, then add about 1 cup of warm stock to the pan. Cook over medium to medium-high heat, stirring occasionally, until liquid is absorbed. Keep adding stock and stirring until the liquid is absorbed until rice is completely cooked (the whole process should take anywhere from 18-22 minutes).
3. Stir in chicken, diced tomatoes, parmesan cheese, and parsley until heated through. Top servings with additional parmesan cheese and parsley, if desired.