Chicken Florentine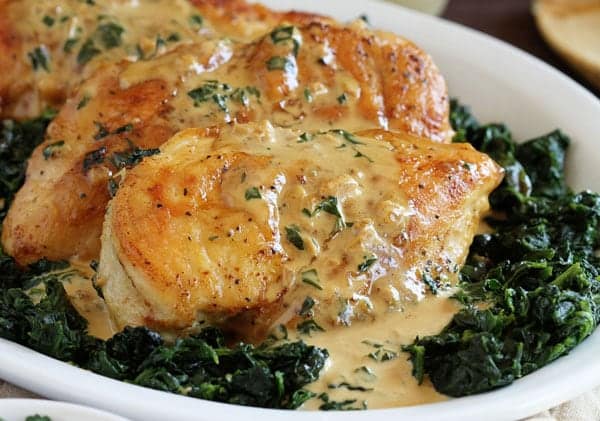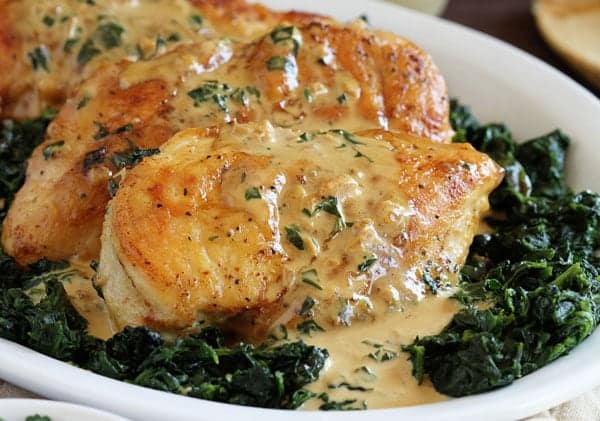 Serves6 to 8
Prep time: 10 minutes
Cooking time: 20 minutes to 30 minutes
Ingredients
10 ounces cremini mushrooms
1/2 medium yellow onion
4 cloves garlic
1 ounce Parmesan cheese, grated (about 1/2 cup), plus more for serving
1 tablespoon freshly squeezed lemon juice
4 boneless, skinless chicken breasts (about 2 pounds total)
1/2 teaspoon kosher salt, plus more for seasoning
1/4 teaspoon freshly ground black pepper, plus more for seasoning
1 tablespoon olive oil
3 tablespoons unsalted butter
2 tablespoons all-purpose flour
1 cup half-and-half or whole milk
1/2 cup low-sodium chicken broth or water
4 ounces baby spinach (about 4 packed cups)
Instructions
Prepare the following and place together in a medium bowl: cut 10 ounces cremini mushrooms into 1/4-inch-thick slices, finely chop 1/2 medium yellow onion, and mince 4 garlic cloves.
Grate 1 ounce Parmesan cheese (1/2 cup); set aside. Squeeze 1 tablespoon lemon juice into a small bowl or ramekin.
Pound 4 boneless, skinless chicken breasts one at a time: Place 1 chicken breast in a gallon-sized zip-top bag and pound with a rolling pin or the flat side of a meat mallet to an even 1/2-inch thickness. Set aside and repeat with the remaining breasts. Pat the chicken dry with with paper towels. Generously season all over with kosher salt and black pepper.
Heat 1 tablespoon olive oil in a 10-inch or larger skillet over medium-high until shimmering. Working in batches if needed, add the chicken and sear until deeply browned on the bottom, 5 to 7 minutes. Flip and sear the other side until browned, 5 to 7 minutes. Transfer the chicken to a plate; set aside.
Reduce the heat to medium and melt 3 tablespoons unsalted butter in the skillet. Add the mushrooms, onion, garlic, 1/2 teaspoon kosher salt, and 1/4 teaspoon black pepper, and cook, stirring occasionally, until the vegetables are tender, 3 to 5 minutes. Sprinkle with 2 tablespoons flour, stir to evenly coat the vegetables, and cook for 1 minute.
Add 1 cup half-and-half or whole milk and 1/2 cup low-sodium chicken broth or water, and stir until no lumps from the flour remain, making sure to scrape up any browned bits from the bottom of the pan. Bring to a boil. Reduce the heat to a simmer and stir in 4 ounces baby spinach (about 4 packed cups) and the Parmesan cheese until the spinach just begins to wilt, about 30 seconds.
Return the chicken to the pan and simmer gently until the sauce is thickened enough that it coats the back of a spoon and the chicken is cooked through, 3 to 4 minutes. Stir the lemon juice into the sauce and serve immediately, garnished with more Parmesan, if desired.
Recipe Notes
Storage: Leftovers can be stored in an airtight container in the refrigerator for up to 3 days.
Join Joanne and Frank on Facebook at
and