Chicken Lemone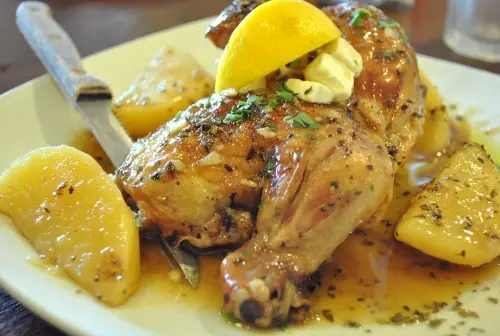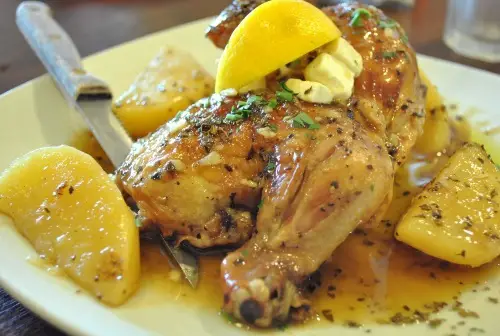 Great Lemony Flavor
The char broiled lemony flavor of this dish served with roasted lemon and herb potatoes will be a hit for any occasion.
INGREDIENTS
4 chicken breasts on the bone

4 thighs

4 legs

4 wings

1/2 cup of chopped parsley

2 Tbls dried oregano

4 lemons

1/2 cup of lemon juice

1/2 cup of vegetable oil

1 tsp salt

freshly ground black pepper

PREPARATION

Thoroughly wash and dry all chicken pieces.

Cut 2 lemons into round slices

Salt and pepper chicken on both sides

Place chicken meat side up in a nice glass casserole dish.

Mix oil, lemon juice, parsley.

Pour over chicken.

Sprinkle some oregano all over chicken and refrigerate for about an hour.

Turn the chicken over and sprinkle more oregano on top then refrigerate for about another hour.

After the chicken marinates for a while place under the broiler for about 20 minutes.

Turn chicken around and broil for about another 20 minutes while basting with the oil and juice mixture. Top with lemon slices.

Towards the end watch carefully and try and get the skin of the chicken a nice crisp blackened look to it.

Not burned but just enough to give it a great flavor.
http://www.great-chicago-italian-recipes.com/chicken_lemone.html