Chicken Puttanesca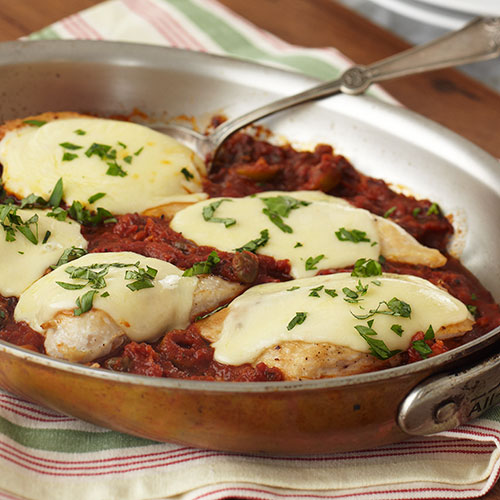 Total

Makes

4 – 6

Servings
Ingredients
For the Chicken:
1 1/2 pounds boneless, skinless, chicken breasts

2 tablespoons olive oil

Salt and pepper
For the sauce:
6 ounces fresh mozzarella cheese, sliced into 4-6 rounds

1/4 cup fresh parsley and basil, chopped
Instructions
For the chicken- butterfly, or pound, chicken to an even ½-inch thickness. Season with salt and pepper.

Heat oil in a 12-inch heavy skillet over medium-high heat. Add chicken and sauté until golden and cooked through, about 4 minutes on each side. Remove chicken and tent with foil.

Next add the garlic and anchovies to the skillet. Sauté for 2 minutes, then pour in the tomatoes, parsley, oregano, and crushed red pepper. Stir well, and add in the olives and capers. Simmer 8-10 minutes.

Place the chicken back into the sauce. Simmer the chicken for 3-4 minutes to heat through. Then Top each chicken piece with a slice of cheese. Cover the pan and reduce heat to low. Heat until sauce bubbles and the cheese is melted.
Sprinkle chopped herbs over dish and serve with your favorite pasta.