Chicken Risotto with Truffle Oil
Chicken Risotto with Truffle Oil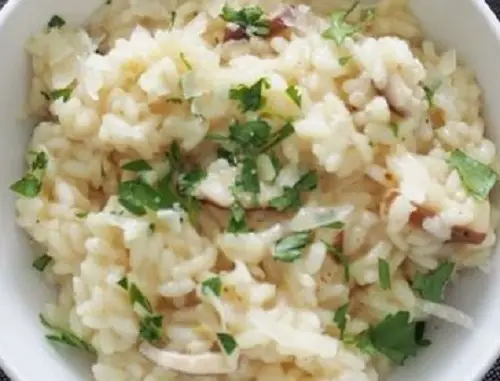 INGREDIENTS
1 pound of boneless chicken breasts

1 bunch of long green onions, chopped

3 cloves of garlic, finely chopped

4 Tbls of butter

3 Tbls of white truffle oil

1 and 1/2 cups of Arborio rice

4 to 6 cups of chicken broth

1 cup of parmesan cheese

1/2 tsp of salt

1 tsp of fresh ground black pepper

1/4 cup of flat leaf parsley. Chopped
PREPARATIONS
Put chicken broth in a sauce pan and bring to a boil then set aside.

Sweat the onions and garlic in truffle oil and 2 tablespoons of butter over medium heat until they start to soften, do not brown.

Add the chicken and cook for about 5 minutes.

Add the rice

Stir the rice, chicken, onions and garlic together for a couple of minutes to toast the rice a little bit to add a nutty flavor to the dish. Do not add any liquid to the rice yet.

When the rice starts to smell nutty or sticks to the pan, it is now time to add the broth, start by adding 2 cups and make sure you stir well to free any rice kernels that may have stuck to the bottom of the pan. You do not want to let anything burn because that flavor will impart into the rice.

Bring the liquid to a boil then reduce the liquid to a simmer over low heat. You will need to stir the rice constantly to prevent any burning on the bottom and to develop the starch, or texture of the dish.

Add more broth one cup at a time until the rice is cooked to your desired doneness and all the broth is absorbed.

Remove the risotto from the heat and stir in the parmesan cheese and the remaining butter.

Plate and finish with the chopped parsley.
Serves 6 people.