Chicken Tortellini Soup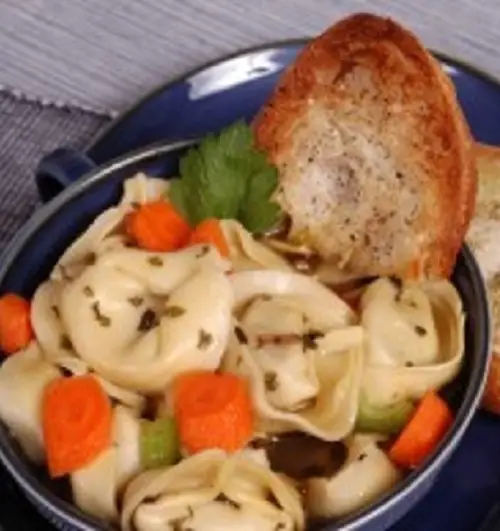 INGREDIENTS
1 pound of frozen tortellini or 1 pound of homemade

2 boneless chicken breast

2 large can of chicken broth

5 carrots sliced into circles

4 stalks of celery cut into small pieces

1 large yellow onion sliced

2 cloves of garlic

1 28oz cans of diced tomatoes

4 bay leaves

Salt and pepper to taste

1/2 cup of Parmesan cheese

PREPARATION

In a large pot combine broth, carrots, onions, celery, tomatoes, garlic, bay leaves, salt and pepper and bring to a boil.

Reduce heat and simmer for about a half hour.

Add chicken and cook for around 15 minutes.

Remove chicken and shred. Return to soup.

Add tortellini for around 15 minutes and your ready to serve. Don't forget to remove the bay leaves before serving.

Ladle in a bowl and top with parmesan cheese if desired.
http://www.great-chicago-italian-recipes.com/chicken_tortellini_soup.html