Chicken Valdostana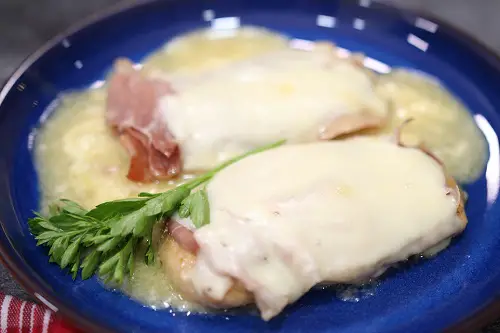 Chicken Valdostana is a delicious northern Italian recipe that consists of thin chicken cutlets topped with prosciutto and fontina cheese and cooked in a flavorful wine sauce. I like to pair it with a side of my favorite roasted vegetables, but also goes well with a side of pasta.

Ingredients
    2 Chicken Breasts sliced in half lengthwise

    4 slices Prosciutto Crudo

    4-8 slices Fontina Cheese

    2 Tbsp. Butter unsalted

    1/3 cup White Wine dry

    1/2 cup Chicken Stock

    All Purpose Flour

    Salt and Black Pepper to taste

    Extra Virgin Olive Oil
Instructions
    Begin by covering the bottom of a plate with flour. Season with salt and black pepper. Cut the chicken breasts lengthwise to create four thin chicken cutlets. Season on each side with salt and black pepper. Dredge the seasoned chicken cutlets in the flour and set aside.

    Add a large drizzle of olive oil and one tablespoon of butter to a large frying pan. Once the butter has melted, lower the heat to medium low and add in the chicken cutlets. Fry for about five minutes on each side or until golden brown on each side. Remove the chicken cutlets from the pan and set aside on a clean dish.

    In the same frying pan, add the remaining butter and two tablespoons of flour. Mix with a silicone whisk until fully combined. Reduce to low heat and pour in the white wine. Whisk together until it has thickened.

    Pour in the chicken stock and whisk together until fully mixed. Place the chicken cutlets back into the frying pan. Let simmer for two minutes.

    Place a slice of prosciutto on top of each chicken cutlet and top with one to two slices of fontina cheese. Cover the pan with a lid and allow to simmer for five to six minutes, until the cheese has melted.

    Remove the lid and enjoy the Chicken Valdostana with your favorite sides. Salute and cin cin!