Chicken with 40 Cloves of Garlic
Chicken with 40 Cloves of Garlic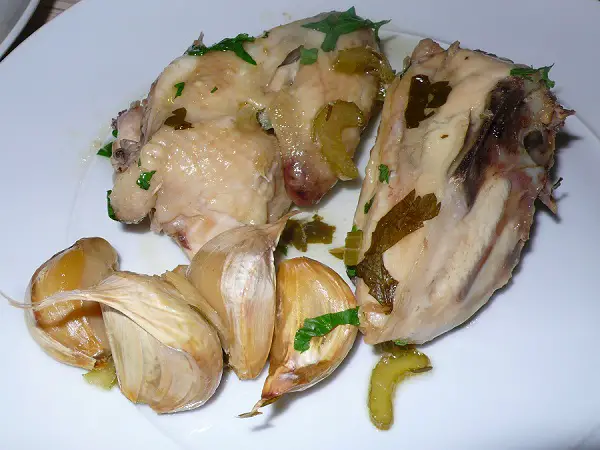 Ingredients
    One 3-pound chicken, cut into 8 pieces

    salt and freshly ground pepper, to taste

    2 to 4 tbsp olive oil

    2 ribs celery, cut into thin slices

    1 large sprig fresh thyme or 1 tsp dried thyme

    1 bay leaf

    2 tbsp chopped fresh Italian parsley

    40 medium cloves garlic, unpeeled

    1/4 cup brandy
Directions
Preheat oven to 350°F.

Sprinkle the chicken pieces lightly with salt and pepper. In a deep, heavy, enamel-coated cast iron casserole with a tight fitting lid, or in a Dutch oven, mix oil with celery, thyme, bay leaf, and 1 tbsp parsley.

Add chicken pieces and stir well to coat them with the mixture.

Separate the garlic cloves from the heads and remove any loose skin.

 Add the garlic and brandy to the casserole. Cover tightly.

Bake chicken for 1 hour 15 minutes.

To check whether chicken is done, insert a skewer into the thickest part of the thigh; juices that from chicken should be clear.

If juices are pink, continue baking chicken a few more minutes and check again.

Discard the bay leaf and thyme sprig. Sprinkle chicken with remaining parsley.

Serve chicken pieces with garlic cloves and a spoonful of the juices.

 Keep it warm, covered, until ready to serve.