Chicken with Fontina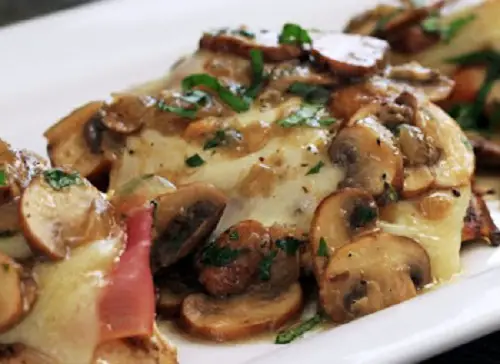 INGREDIENTS
Serves 4 people
4 boneless chicken breast

½ tsp salt

½ tsp of fresh ground black pepper

3 Tbls of extra virgin olive oil

1/4 cup of balsamic vinegar

1 pound of baby portabella mushrooms, sliced

1 cup chopped onion

2 cloves of garlic, chopped

¼ cup of Italian flat leaf parsley, chopped

3 Tbls of fresh tarragon, finely chopped or 1 tsp of dried

6oz of Fontina cheese, shredded
PREPARATION
Season the chicken with the salt and pepper

In a large frying pan cook the chicken in the olive oil for about 3 minutes on each side chicken is cooked through and browned on both sides.

Place the chicken in a shallow baking dish.

Pre heat the oven to 350 degrees.

Deglaze the frying pan with the balsamic vinager

Stir in the mushrooms, onions, garlic, parsley and tarragon to the pan and saute until the vegetables are tender. About 3 to 4 minutes.

Spoon the mushrooms and onions over the top of the chicken breast.

Cover the top with the Fontina cheese.

Bake uncovered until the cheese is bubbly and browned on top. Around 10 minutes.